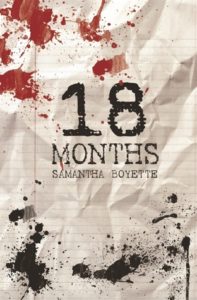 What: 18 Months by Samantha Boyette
Who: Bold Strokes Books
When: December 13th 2016
How: A copy of this novel was provided by Bold Strokes Books for review via Net Galley.
Alissa Reeves came out for Hannah Desarno. Hannah is smart, beautiful, and has just gone missing. Worse, she isn't Alissa's first girlfriend to disappear. Eighteen months ago, Alissa was caught kissing bad girl Lana Meyers. Too scared to admit her feelings for Lana, Alissa let her friends blame Lana. Weeks later when Lana disappeared, no one in their small town thought much of it until months later when her body was found.
With Hannah gone, Alissa finds herself following clues that will help her discover what happened to both girls, and the truth will change everything.
I had six main thoughts when reading 18 Months:
1) I knew who the culprit was immediately.
I had the kidnapper/murderer figured out by the first chapter, which is kind of disappointing. I mean, I entertained the thought of it being someone else but ultimately I was right. Which takes away a lot of the fun of reading a mystery/thriller book because the guessing is the best part.
2) I'm glad it wasn't because of Alissa's sexuality.
I never want to read another mystery/thriller featuring a queer character that is targeted because of their sexuality or gender identity. It puts out such a horrible message. So the fact that the horrible things aren't happening to Alissa because she's gay was appreciated.
3) I didn't understand why people fell in love with Alissa.
There was a scene and one of Alissa's girlfriends (I think it was Lana) was talking about how, once you got to know her, Alissa was this incredible person. I didn't see it, and I was reading from her perspective.
4) Alissa's relationship with Lana changed.
In the beginning of 18 Months, Alissa has a flashback to when she's caught kissing Lana and decides to let Lana take the fall for her (so she doesn't have to come out to her horrible friends). In that flashback, Alissa is thinking about how she likes Lana, but they're not serious or anything, and she doesn't see Lana as someone she'd want to be with. And then, later in the book, it turns out that Alissa and Lana's relationship was pretty intense. There was sneaking out, and special places, and then all of a sudden Alissa is reminiscing about how much she cared about Lana. I'm not sure if the first part was just Alissa making excuses to herself, or whether the author decided to make Lana more important as the story went on, but it was weird and disjointed.
5) Was Hannah even missing?
The whole premise of 18 Months is that Alissa's new girlfriend (if we go with Lana actually being a girlfriend), Hannah, is missing. But Alissa phones Hannah's parents, and they say they've heard from her, and that she's fine. Alissa kind of believes this, but also decides to start her own investigation into what's going on. This seemed kind of weird because there wasn't any indication to say that Hannah was actually missing except for Alissa's hunch (which was right, but it was still odd).
6) Girl, phone the police.
The person who has taken Hannah says that they'll kill her if Alissa goes to the police. How would they even know if she did, anyway? (I mean, I know how, but Alissa didn't.) It is always better to go to the police, even if they're shitty and incompetent (like they usually are in mystery/thrillers) because doing things on your own is not a good idea.
~
All in all, 18 Months was quite a predictable mystery/thriller, but it was a quick read and I'm always up for a mystery/thriller, especially one that's LGBTQIA+.
© 2016, Chiara @ Books for a Delicate Eternity. All rights reserved.
trigger warning: murder, use of ableist language, fat shaming, bullying, homophobia, abduction, sexual assault, and reference to rape in this novel

Posted on: December 23, 2016 • By: Chiara