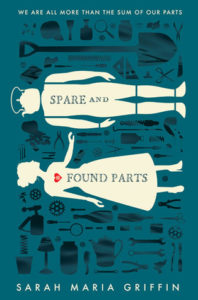 What: Spare and Found Parts by Sarah Maria Griffin
Who: Greenwillow Books
When: October 4th 2016
How: A copy of this novel was provided by HarperCollins for review via Edelweiss.
Nell Crane has always been an outsider. In a city devastated by an epidemic, where survivors are all missing parts—an arm, a leg, an eye—her father is the famed scientist who created the biomechanical limbs everyone now uses. But Nell is the only one whose mechanical piece is on the inside: her heart. Since the childhood operation, she has ticked. Like a clock, like a bomb. As her community rebuilds, everyone is expected to contribute to the society's good . . . but how can Nell live up to her father's revolutionary idea when she has none of her own?

Then she finds a mannequin hand while salvaging on the beach—the first boy's hand she's ever held—and inspiration strikes. Can Nell build her own companion in a world that fears advanced technology? The deeper she sinks into this plan, the more she learns about her city—and her father, who is hiding secret experiments of his own.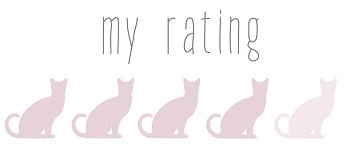 There were four pleasantly surprising things about Spare and Found Parts:
1) The main character, Nell, is bi.
The word isn't used on the page, but Nell talks about guys and girls in terms of romance (and her best friend does, too, when asking Nell about it), and she also has a super crush on a girl that runs a bar. It was SUCH AN AWESOME SURPRISE to find this out because lo and behold, the blurb and the book community in general has failed – yet again – to mention queer content. Guys. When a girl says, and I am quoting here: "any time Nell thought about boys, or girls for that matter, she immediately sabotaged her fantasy self out of any romance" that girl is not straight. That girl is hella bi, hella queer.
2) The prose is freaking gorgeous.
There's second person, and third person, and first person, and all of it is beautiful. It was incredibly lyrical, and it just gave me a really beautiful feeling when I was reading it. There were so many gorgeously written lines, and the whole book was so packed full of words that were beautifully strung together. I definitely want to re-read this book, just so I can bask in the glory again one day.
3) I really liked it.
Now, I guess that is somewhat weird to say, because we all want to like the books we decide to read, but I don't actually have a lot of luck when it comes to books. Which is really quite shitty. For all the books I read I should love a lot of them, but I don't. But I suppose it makes the ones that I do really like (and love) more special, so there's that.
Anyway. I really liked Spare and Found Parts. There were so many things I liked about it. I liked Nell, I liked the prose, I liked the storyline, I liked the flow. I pretty much liked everything. And it was just so lovely to realise that I was going to like this book from the first chapter, because it's such a wonderful feeling to just know that a book is going to click with you.
4) Nell.
Nell, a queer girl of colour, who wants to be as amazing as her mum and dad, who has no interest in the boy chasing after her, who doesn't fit in, who wants someone to just get her. Oh, Nell. I loved her quite infinitely. She was in no way perfect, but imperfections can sometimes make a character all the more real and all the more loveable for it, and Nell is definitely one of those characters. Her sheer determination in the face of ridicule and betrayal and impossibility is just gorgeous, and I adored her for this. I think Nell is one of the best characters I have met recently.
~
Overall, Spare and Found Parts is an utterly beautiful novel, on so many levels. With an engaging storyline, beautiful prose, and a gorgeous and diverse main character … what are you waiting for? Go, now. Go, now, and read Spare and Found Parts.
© 2016, Chiara @ Books for a Delicate Eternity. All rights reserved.
trigger warning: death of a parent, forced marriage (not fulfilled), and heart complications/surgery in this novel

Posted on: October 7, 2016 • By: Chiara