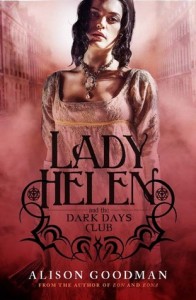 What: Lady Helen and the Dark Days Club (Lady Helen #1) by Alison Goodman
Who: HarperCollins – AU
When: December 14th 2015
How: A copy of this novel was provided by Harper Collins Australia for review.
London, April 1812. Lady Helen Wrexhall is set to make her debut at the court of Queen Charlotte and officially step into polite Regency society and the marriage mart. Little does Helen know that step will take her from the opulent drawing rooms of Mayfair and the bright lights of Vauxhall Gardens into a shadowy world of missing housemaids and demonic conspiracies.

Standing between those two worlds is Lord Carlston, a man of ruined reputation and brusque manners. He believes Helen has a destiny beyond the ballroom; a sacred and secret duty. Helen is not so sure, especially when she discovers that nothing around her is quite as it seems, including the enigmatic Lord Carlston.

Against a backdrop of whispered secrets in St James's Palace, soirees with Lord Byron and morning calls from Beau Brummell, Lady Helen and the Dark Days Club is a delightfully dangerous adventure of self-discovery and dark choices that must be made … whatever the consequences.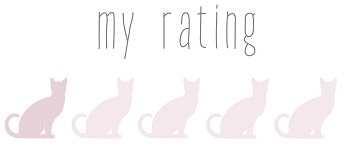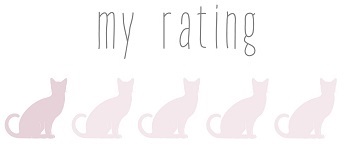 I'd heard a lot of good things about this author's other books, so I jumped at the chance to read and review Lady Helen and the Dark Days Club. Except that I knew by the end of the first chapter that we were not meant to be.
Because I like lists, and there are a few things about this book that were off for me, here are some weird/unlikeable things about Lady Helen and the Dark Days Club:
1) The writing style. Now, I am not the biggest fan of historical fiction, but I've never been so bored by writing before. There was no urgency in high intensity situations, there were no feelings in supposed romantic situations. There was just nothing in terms of emotion.
2) The pacing. Of which there was little to none. Every single event in this book occurred at a snail's pace. It was enough to put me to sleep (literally, I started falling asleep when I was reading this book). I really did not care about all the shit that went down at the meet the Queen event, and how girls were sweating and how it was so hot and how Helen was worried about wobbling and just no. ENOUGH.
3) Helen. Besides the fact that I couldn't engage with her character at all, I didn't particularly want to, either. She had no mind of her own (she just went along with what everyone wanted from her), she was rude and bitchy (oh yeah, I absolutely loved the fat shaming – easily my favourite part of the novel), self centred, and generally unlikeable. I seriously cannot thing of one redeeming feature of her character.
4) The sexual parts. There were weird porn cards, and Helen imagining having sex with some old dude with gravy breath, and – here is the standout – a demon that kills people when they orgasm by shoving a tentacle in their chest. Like … a fucking tentacle, guys. A TENTACLE. I don't understand this. I mean, okay sex demons sure whatever, but a tentacle sucking life force? And Helen thought about it all the time and referenced it as a "pulsing tentacle" and I'm just like … dear god. I kind of feel like it was supposed to be some kind of siphoning penis, and I really think that maybe the sex demon could have just kissed their victim to suck their life force but okay.
5) The shipping, or lack thereof. I didn't ship anything in this book. Which is a pretty big feat because I ship things all the time. I can find ships in the most unromantic of things. An art, one may say. So the fact that I did not ship anyone in this book was weird. I mean, Helen was so bland, so when she had two beaus after her I found it a little unbelievable because I didn't understand what it was about her that they liked. And Carlston was no Mr. Darcy. He was as flat as a pancake, and there was no tension between them, nor any romance. The whole thing was a bust.
6) I am almost tempted to go through this book and highlight the number of times the word 'propriety' was used because I cannot even fathom how many times it was used. Helen was constantly talking about impropriety and propriety and I'm just like: girl, FFS, just do what you want. Propriety is just a bullshit norm enforced by petty minds. But oh wait, you are one of those petty minds so never mind.
7) The blatant sexism. Mostly reserved for Helen's uncle, and almost all other characters at one time or another. I understand that history didn't treat women so well, but I don't really like to read about a character who so detests women, and a protagonist who just sits there and takes it.
~
I cannot really say any more, because overall this book was really disappointing, and to be entirely honest I struggled to read the entire thing. I wanted to DNF after the first chapter, but I was willing to give it a go because it has been received pretty well by almost everyone who has read it. Turns out I should trust my instincts because Lady Helen and the Dark Days Club was definitely not worth my time.
© 2015, Chiara @ Books for a Delicate Eternity. All rights reserved.
warning: murder, fat shaming, sexism, and death by drowning in this novel

Posted on: December 16, 2015 • By: Chiara