What: Untraceable (The Nature of Grace #1) by S.R. Johannes
Who: Coleman & Stott
When: November 29th 2011
How: A copy of this novel was provided for review via Net Galley on behalf of the publisher.
Rating: ★ ★
trigger warning: animal abuse and deaths in this novel
I guess that warning pretty much sums up my feelings for this book. Being an extreme animal lover and activist, I just cannot handle animal cruelty in novels. I don't need the 'education' of it, and I certainly don't see the fictitious appeal. I know how fucking cruel humans are, and I certainly don't want to read about it, when reading is supposed to be my happy place. But anyway.
I wasn't a huge fan of this novel, even without the animal cruelty aspects. The main character was irresponsible, girl-hating (you dumped him, you don't get to bitch about the girl who actually likes him – or any girl for that matter), and more than a little annoying. This girl is supposed to be a survival skills enthusiast (or whatever), and then makes so many mistakes. I think you either create a character that knows their shit, or you have one that doesn't. Making mistakes is amateurish, and takes away the credibility of the knowledge of the character. The romance moved at the speed of lightning, and he called her Blossom (with a capital B). I am not a fan of pet names in general but Blossom? *shudders*
I felt that the suspense of this thriller was really lacking, and I saw each of the reveals coming a mile away. This won't be a series I will continue reading.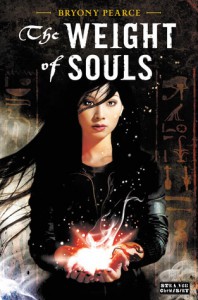 What: The Weight of Souls by Bryony Pearce
Who: Strange Chemistry
When: August 6th 2013
How: A copy of this novel was provided for review via Net Galley on behalf of the publisher.
Rating: ★ ★ ★ ★
A good book! Hallelujah, hallelujah, halleeeeeelllluuuujjjaaaahhhhh.
I had been looking forward to The Weight of Souls ever since I saw a review for it on Tammy's blog Books, Bones & Buffy (like a year ago – I know SHAME ON ME for reading things so late but hey … better late than never, right? RIGHT?). I trust her opinions on books, so I knew that I was probably going to like The Weight of Souls. Which I did. Very much so.
Pearce's writing style is very, very good. I slipped right into the story and into Taylor's POV extremely easy. It was also the kind of style that just begs you to keep reading. I mean, I read this book in a few hours because it was so engrossing. Beyond that, the storyline was flipping fantastic and completely unique in the fact that Taylor has to … murder murderers. SO AWESOME.
I wasn't entirely enthused about the ~secret society~ aspect of the book, but it wasn't enough to deter my enjoyment of the book. There's little to no romance, and it certainly isn't instalove so I appreciated that wholeheartedly. I actually love Taylor for all the shit she gave Justin after he died. I laughed.
I must warn you, though: there is a lot of potential for a book #2, but so far no word on that. So if you aren't keen on a book that has a few unanswered questions and room for a sequel but no news so far … still read it because it was awesome.
What: Dangerous Designs (Design #1) by Dale Mayer
Who: Season Publishing
When: August 26th 2011
How: A copy of this novel was provided for review via Net Galley on behalf of the publisher.
Rating: DNF
I got to 22% of Dangerous Designs, and I couldn't continue. I was not invested in the run of the mill ~special snowflake + special instrument~ storyline, nor was I a fan of the characters, or the predictable 'boy has to deceive girl but ends up falling for her' plot device. To be honest, I just don't have the time to force myself to read a book I know I am not going to end up loving.
© 2015, Chiara @ Books for a Delicate Eternity. All rights reserved.

Posted on: February 3, 2015 • By: Chiara