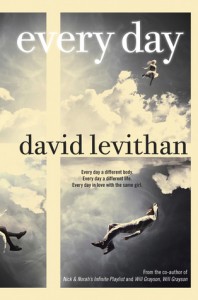 What: Every Day (Every Day #1) by David Levithan
Who: Text Publishing
When: September 26th 2012
How: Purchased.
Every day a different body. Every day a different life. Every day in love with the same girl.

Every morning, A wakes in a different person's body, a different person's life. There's never any warning about where it will be or who it will be. A has made peace with that, even established guidelines by which to live: Never get too attached. Avoid being noticed. Do not interfere.

And then A wakes up in the body of Justin and meets Justin's girlfriend, Rhiannon. From that moment, the rules by which A has been living no longer apply. Because A has found someone he wants to be with—day in, day out, day after day.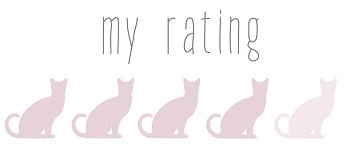 I loved this book. Which is probably not surprising, since it's David Levithan, and he owns my soul (seriously, though, David freaking Levithan).
The thing I loved most about Every Day was its diversity. A themself is, at the same time, both genders and no gender at all, and the way they explain this is beautiful. The way they explain everything is beautiful. The entirety of Every Day is just so. Darn. Beautiful. I could pretty much pull the whole book for quotes that are gorgeous and relatable, and completely inspirational.
But back to the diversity. Because A wakes up every day in a different body, they wake up as so many people. People of so many different backgrounds, and religions, and races, and sexualities, and genders. And the best part of it all is A's acceptance of every single person that they inhabit for the day. There's never any judgement, even when the person they inhabit isn't the greatest or kindest of people. They admire those who face adversity, and understand those who need help. Darn it, A is just amazing.
A lot of Every Day focuses on A's feelings for Rhiannon, who we meet in the first chapter. To be entirely honest, I wasn't a big fan of Rhiannon. I wanted A and Rhiannon to find a happily ever after, but only for A, because I wanted them to be happy. In all reality, though, I didn't think that Rhiannon quite deserved the depth of feelings that A had for her. She was hesitant to spend time with, or engage physically (even holding hands) with A when they were female, not to her aesthetics, or anything outside of her norm (A was a trans guy one day, and Rhiannon was pretty disgusting about it, and her reaction just completely put me off her).
But, like I said, I wanted them to end up together, because I wanted A to be happy. Because I love A, and I wanted them to get what they wanted. As versatile as they were about the fact that they never have a true life of their own, they also wanted one. They knew what they were missing out on, and it felt so unfair. I just wanted them to be happy so much, and it hurt to read about it sometimes.
I wonder why I waited so long to read this book, because it is one of my favourites from David (but … this is David, so pretty much all of his books are my favourites). It makes you think about life, and love, and the everyday little things that we take for granted, and gender, and sexuality. It makes you happy and sad and heartbroken and uplifted, all at the same time.
Every Day is beautiful, and I cannot recommend it enough.
© 2015, Chiara @ Books for a Delicate Eternity. All rights reserved.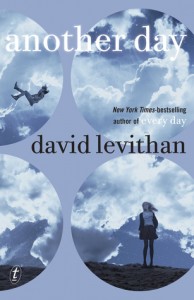 What: Another Day (Every Day #2) by David Levithan
Who: Text Publishing
When: August 26th 2015
How: A copy of this novel was provided by the publisher for review.
Every day is the same for Rhiannon. She has accepted her life, convinced herself that she deserves her distant, temperamental boyfriend, Justin. She's even established guidelines by which to live: Don't be too needy. Avoid upsetting him. Never get your hopes up.

But one morning everything changes. Justin wants to be with her for the first time, and they share a perfect day—a perfect day Justin doesn't remember the next morning.

Confused, depressed and desperate for another great day, Rhiannon starts questioning everything. Until a stranger tells her that the Justin she spent that day with—the one who made her feel like a real person—wasn't Justin at all.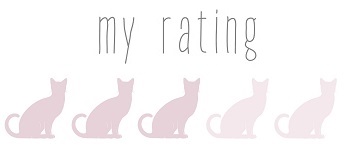 (2.5 stars)
I was a little hesitant to read Another Day, because when reading Every Day, I wasn't the biggest fan of Rhiannon. There were things she said and did that I just didn't agree with, and the only reason I wanted her to end up with A is because A loved her so much.
Another Day didn't increase my feelings towards Rhiannon at all. If anything, it just cemented the fact that I am not a fan of her at all.
One of the biggest reasons I don't like her is because the way she is with her boyfriend, Justin. She lets him walk all over her, and never calls him out on it once. He's rude to her, and she's the one who apologises (and then gets shit for apologising). I just couldn't stand how completely and utterly passive she was with him.
And then when she's with A, she kind of treats them like shit a lot of the time. And judges them constantly, and calls them out on things. And I'm just like … why the hell do you think it's okay to treat A this way? Isn't she just becoming A's version of Justin?
Rhiannon's judgey-ness got in the way of me liking her, as well. She was always stand-offish with A when they were in a female body, and when they weren't in a body that was to her aesthetic, and god forbid if A was in a body that was somehow "confusing" to her. I just couldn't stand how shallow she was all the time.
She's also very self-centred. The whole book is about her. Her and Justin. Her and A. There is little to no mention of her friends, and they just really seem like two dimensional characters there to tell her to dump her asshole of a boyfriend, and for her to ignore their advice and continue dating said asshole. I'm not even sure her parents had any dialogue, and the only thing I learned about them was that they weren't the best parents. Except I don't really know why that is the case.
It was interesting to see the interactions between A and Rhiannon from Rhiannon's perspective, because some things that seemed quite mean from A's perspective were actually a little less mean in what Rhiannon meant by them. But a lot of the time Rhiannon being mean was just Rhiannon being mean, and I didn't care about her at all.
The ending was really interesting because it leaves off practically exactly the same moment as Every Day, but with a certain thought from Rhiannon which kind of has me hoping for a third book. I want her to get her shit together and realise that she loves A regardless of body or gender, and them to have a happily ever after. I like those.
© 2015, Chiara @ Books for a Delicate Eternity. All rights reserved.

Posted on: August 22, 2015 • By: Chiara