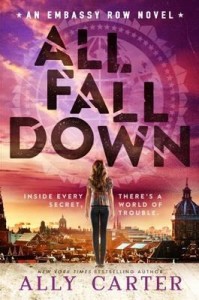 What: All Fall Down (Embassy Row #1) by Ally Carter
Who: Scholastic Australia
When: February 1st 2015
How: A copy of this novel was provided by Scholastic Australia for review.
Grace Blakely is absolutely certain of three certain things:

1. She is not crazy

2. Her mother was murdered

3. Someday she is going to find the killer and make him pay

The thing is, nobody else believes her and there's no-one she can trust. Not her grandfather, a powerful ambassador. Not her new friends, who all live on Embassy Row. Not Alexei, the Russian boy next door, who is keeping his eye on Grace for reasons she neither likes nor understands.

Grace's past has come back to haunt her… and if she doesn't stop it, Grace isn't the only one who will get hurt. Because on Embassy Row, the countries of the world stand like dominoes and one wrong move can make them all fall down.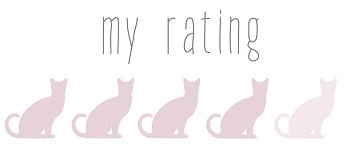 I was a bit hesitant to go into All Fall Down because I'd read some mediocre reviews from fellow bloggers. I had no right to be, because I ended up LOVING All Fall Down. I remember bloggers saying that All Fall Down didn't really compare to Carter's other books, so I suppose I had the advantage that All Fall Down was my first Carter book – and I know it won't be my last.
I absolutely loved the fact that Grace was so imperfect. She had no true self esteem to think of. She didn't trust anyone. She didn't trust herself. She was the kind of heroine that I adore, and I am so thankful to Carter for creating such a complex character for the YA genre. One that has actual problems, that can't just be solved with a kiss or a short story arc. Grace has been struggling with her mother's death for years, and this struggle doesn't end at the final page of All Fall Down. It doesn't end with a nice revelation. It doesn't end with a boy. It just doesn't end. And it's painful to read about how much pain Grace has gone through, and how her entire family has been disbelieving of her. It broke my heart.
The other characters that really made an impression on me were Noah and Alexei. Noah more so because he's just dorky and adorable, and I prefer that (in this case, at least) over the brooding and mysterious Alexei (although I did like him – I would be lying if I said I did not). These two boys were both there for Grace in different ways. There was little to no hint of romance, and for that I was thankful. I don't really think Grace was in any kind of state of mind to be dealing with romance on top of everything else. But I do have a boy I would prefer her to end up with, and I'll be really sad if it doesn't turn out that way. For once I would like the boy I like to get the girl, but we'll see.
All Fall Down completely captivated me from page one, mostly because of Grace (who I loved), but also because of the storyline and the writing style. Carter has done such a lovely job with both of these, and I cannot wait to read the sequel to All Fall Down as soon as it releases. I'm also keen to read her other books because if they're anything like this one – I know I will be fan.
I also loved the racial diversity in this book – it was great to have such a wide range of characters from different backgrounds. I was a huge fan of this, and it was simply refreshing not to read about all American people who are all white. Yes for representation!
There's a bit of a twisty and cliffhangery ending and I have an extreme case of the grabby hands for the next book. GIMME. COME TO ME, PRECIOUS.
© 2015, Chiara @ Books for a Delicate Eternity. All rights reserved.

Posted on: April 24, 2015 • By: Chiara