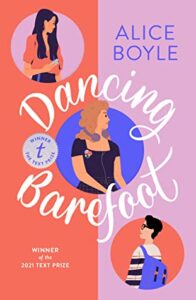 What: Dancing Barefoot by Alice Boyle
Who: Text Publishing
When: August 30th 2022
How: A copy of this novel was provided by Text Publishing for review.
Patch is out of place at Mountford College: she wears the wrong clothes, she's not sporty or popular, she lives in a small flat above her dad's record shop a world away from the leafy suburb where she goes to school. And she has a secret long-term crush on basketball star Evie Vanhoutte. Evie barely knows Patch exists until an accident involving a bottle of ink and Patch's school uniform sparks a friendship that's equal parts exhilarating and terrifying, and very, very confusing.

As if that weren't enough, Patch is also trying to deal with a jealous school bully, forgetting to be supportive of her transitioning best friend, Edwin, and worrying about how a potential new stepmother could throw everything off course.

Dancing Barefoot is an Aussie queer YA contemporary that follows sixteen year old Patch, a lesbian, as she navigates being the unpopular scholarship kid at an elite private school, juggling friend time and crush time, not being out to anyone but kind of wanting to be, and the dreaded school Wilderness Camp. The writing style in Dancing Barefoot was incredibly immersive, and from the moment I started it I was sucked in and just wanted to keep reading. It only took me three days to finish it! As always, I loved the Australian setting and references. Being able to recognise things has its own special power in books and even though I don't live in Melbourne I've been there a few times, and some Aussie things are just universal so 😌 I thought the romance between Evie and Patch was incredibly cute, even though they both had their fair share of mistakes throughout. But they're both young and learning, and realised they could have done things better and I love that growth 🙌🏻 Another thing I really enjoyed in Dancing Barefoot was how close Patch was to her dad and her brother. Teens can enjoy spending time with their family, and having this represented and included was so special.
© 2022, Chiara @ Books for a Delicate Eternity. All rights reserved.
trigger warning

absent parent, bullying, lesbophobia, coming out themes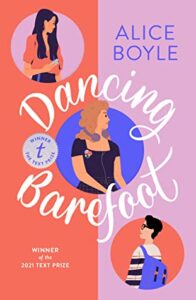 What: Where You Left Us by Rhiannon Wilde

Who: University of Queensland Press

When: August 30th 2022

How: A copy of this novel was provided by UQP for review.
Cinnamon Prince is angry. She's living at home with her rockstar father after his latest breakdown, and she's stuck in a town where people have whispered that the Princes aren't quite right ever since the mysterious disappearance of her Great Aunt Sadie. Not that Cinnamon cares about anyone else's opinion. Except, she might be really starting to care what her gorgeous co-worker Daisy Leung thinks.

Scarlett Prince is anxious. Most of the time, and also about spending the summer with her sister and barely there dad. She's holding it together. Just. But when sister's ex-boyfriend-now-best-friend Will starts helping her search for the truth about Sadie, things get all-the-ways complicated.

Can solving the mystery fix their broken family?

For a while I've been talking about missing those hard hitting contemporaries from circa 2015. And then Where You Left Us arrived and I got what I wanted 😭🙌🏻 I really love contemporaries that are darker and dive into deeper themes and Where You Left Us really delivered.Where You Left Us is narrated by the two Prince sisters: Cinnamon the bisexual disaster who was left by her mum and sister to take care of their mentally ill father by herself, and Scarlett who lives with anxiety and has returned home for the summer with no idea how to interact with her family. To say that Where You Left Us is rife with family drama is an understatement. The Princes all harbour grief, guilt, anger, and loneliness. And they don't know how to forgive each other, even though they all still love one another. Contemporaries that includes these kind of difficult and messy family relationships give me life 👌🏻 That's not to say there aren't cute moments because there are TWO romances in Where You Left Us, which are also messy and difficult but also really sweet. I loved both couples and was really rooting for them. It would be remiss not to mention the fact it's set in Australia. It gave me Noosa vibes back when I used to visit and it was small and cute and very relaxed. I love being able to relate to a setting like this!

© 2022, Chiara @ Books for a Delicate Eternity. All rights reserved.

trigger warning

absent parent, parent with mental illness, anxiety/panic attacks, death of grandmother (before book starts but plays a role), adoption themes

Posted on: September 14, 2022 • By: Chiara