What: The Lonely Hearts Rescue by Missouri Vaun, Morgan Lee Miller, and Nell Stark
Who: Bold Strokes Books
When: October 11th 2022
How: A copy of this novel was provided by Bold Strokes Books for review.
When a hurricane hits the Gulf Coast, the animals at the Lonely Hearts Rescue Shelter need love, and so do the humans who adopt them.

Something About You by Morgan Lee Miller. After rescuing a cat stranded in the hurricane, animal control officer Reese Shepard is adamant about finding shy, timid Apollo the best forever home. When she discovers Apollo giving cheek rubs to Hannah Marsh, Reese's high school crush, she's captivated by her all over again.

Force of Nature by Missouri Vaun. Rebekah Hawks has stepped in to help with hurricane disaster relief. Challenges are no match for Rebekah. At least until she agreed to foster an impossible dog. Rebekah has no choice but to seek the aid of handsome local dog trainer Rory Maclaren. But who is training whom?

Test of Faith by Nell Stark. Rescuing a dog is a dream come true for Faith Kincaid—and a chance to prove to herself that she really can, in the words of her therapist, "commit to commitment." When Faith takes her new best friend, Pinoe, to the vet, she can't stop staring at Dr. Delphine Wu. Del is completely out of Faith's league. Or is she?

When I was browsing Net Galley and saw that this anthology was about sapphics finding love while adopting rescue animals I was in even though I don't read much romance because that premise is chef's kiss 👌🏻
I have to say the first story by Morgan Lee Miller was my favourite because it's the story that featured a cat! And also the romance in that one was my fave. High school crush coming to fruition years later? 👌🏻 It also featured a character who realised they were queer as an adult and I live for that rep!
I think dog lovers will enjoy the other two stories because they're all about figuring out what works when adopting a new dog, including having a dog for the first time. The romances in those are dislike to love, and a general meet cute.
One thing I do wish the stories had was a connection to each other. One half of each of the pairings worked at the Lonely Hearts Rescue but they never interacted in any of the stories. I would have loved to see that because it would have tied them all together so they felt connected and more within the same world.
Other than that, I think if you're looking for some quick and cute reads about queer women finding love with people and animals then The Lonely Hearts Rescue has got you 🙌🏻
© 2022, Chiara @ Books for a Delicate Eternity. All rights reserved.
trigger warning

natural disaster themes, animal injury, reference to passed away pet, death of a parent (before story starts but plays major role), emotional abuse, loss of a pet during veterinary procedure (off page but happens to the MC)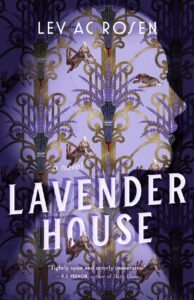 What: Lavender House by Lev AC Rosen

Who: Forge Books

When: October 18th 2022

How: A copy of this novel was provided by Forge Books for review.
Lavender House, 1952: the family seat of recently deceased matriarch Irene Lamontaine, head of the famous Lamontaine soap empire. Irene's recipes for her signature scents are a well guarded secret—but it's not the only one behind these gates. This estate offers a unique freedom, where none of the residents or staff hide who they are. But to keep their secret, they've needed to keep others out. And now they're worried they're keeping a murderer in.

Irene's widow hires Evander Mills to uncover the truth behind her mysterious death. Andy, recently fired from the San Francisco police after being caught in a raid on a gay bar, is happy to accept—his calendar is wide open. And his secret is the kind of secret the Lamontaines understand.

Andy had never imagined a world like Lavender House. He's seduced by the safety and freedom found behind its gates, where a queer family lives honestly and openly. But that honesty doesn't extend to everything, and he quickly finds himself a pawn in a family game of old money, subterfuge, and jealousy—and Irene's death is only the beginning.

When your existence is a crime, everything you do is criminal, and the gates of Lavender House can't lock out the real world forever. Running a soap empire can be a dirty business.

I was so keen for Lavender House when I found out about it because queer historical mystery set in a house where basically no one ever leaves sounded like it promised a good, spooky time. Unfortunately that couldn't be further from the truth.

Lavender House was filled with characters who were completely interchangeable, and despite the narration being in first person, the MC was completely forgettable and tbh I barely remember his name.

There was also no mystery to speak of. Yes a woman died under mysterious circumstances but mystery novels are supposed to make you guess who it might be from the information given and lovely little red herrings and also INVESTIGATION. All the MC did was have little chats with everyone who lived at the house like he was just expecting them to confess to him?? Considering he was a police investigator before taking the job at Lavender House he did exactly zero investigating.

There weren't even any vibes to save this novel, and the way every queer man propositioned the MC after meeting him for the first time was tiresome. And so was the constant "I was a policeman to HELP people because I'm a GOOD PERSON" rhetoric.

All in all Lavender House was a bitter disappointment.

© 2022, Chiara @ Books for a Delicate Eternity. All rights reserved.

trigger warning

homophobia (slurs, physical assault), murder, suicide, dead animal, animal death (rabbit hunting), police brutality, suicidal ideation

Posted on: October 12, 2022 • By: Chiara