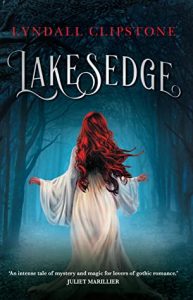 What: Lakesedge (World at Lake's Edge #1) by Lyndall Clipstone
Who: Macmillan Australia
When: August 31st 2021
How: A copy of this novel was provided by Pan Macmillan Australia for review.
There are monsters in the world.

When Violeta Graceling arrives at haunted Lakesedge estate, she expects to find a monster. She knows the terrifying rumours about Rowan Sylvanan, who drowned his entire family when he was a boy. But neither the estate nor the monster are what they seem.

There are monsters in the woods.

As Leta falls for Rowan, she discovers he is bound to the Lord Under, the sinister death god lurking in the black waters of the lake. A creature to whom Leta is inexplicably drawn…

There's a monster in the shadows, and now it knows my name.

To save Rowan, and herself, Leta must confront the darkness in her past, which includes unravelling the mystery of her connection to the Lord Under.
In some ways, I wish I'd waited until spooky season to read Lakesedge because it is absolutely the perfect read for Halloween! It's got monster boys, magic girls, underworld kings, spooky forests, and a corrupt darkness. And also lots of romance, which is always nice in a gothic book if I do say so myself. But alas, I didn't keep it for spooky season, and I enjoyed it nonetheless!
Lakesedge is a lot about family, a lot about death, and a lot about romance. The family aspect was mainly focussed on Leta and her brother, Arien, who were found wandering the forest when they were small children. Neither of them can remember their lives before that moment, or how they ended up alone in the forest. Leta has vague impressions of their parents, but no more. This thread kept an element of mystery throughout the whole novel as you try to figure out exactly what happened in Leta's past. Is all revealed? You'll have to read it to find out!
Leta's love for her brother was one of my favourite aspects of the book. This girl is willing to do everything she can (and even things she can't) to protect him, and while she does sometimes take it too far it really does come from a good place. I love messy sibling relationships in books, and Leta and Arien's was messy in the most beautiful way. I love the way Leta learns to trust Arien's decisions and his powers over the course of the book.
There is a lot of death in Lakesedge, which is where most of the spookiness comes from. Most of it is in the past, but the themes of death permeate throughout the whole story, especially since the god of death is a character. Considering that the Lord Under is mentioned in the blurb, he doesn't actually make an appearance until quite late in the book. Because of this, there isn't much time to develop his connection with Leta, nor to explore exactly what he wants from her. I hope these two things are given more page time in the sequel.
The romance between Leta and Rowan is a kind of hate to love because in the beginning Rowan is prickly and rude and basically steals Leta and Arien away in the middle of the night. Watching the two of them get closer over the course of the book was lovely, and their romance was actually really sweet. I do think it moved a tad too fast, but I also think that both Leta and Rowan's situation would have impacted this a lot. Rowan's entire family is dead, and Leta's only other person in her life besides her brother was an abusive adoptive mother. I think both of them were looking for comfort, and were happy to find it with each other. Like the Lord Under aspect, I'm looking forward to seeing their relationship strengthen in book two.
I won't say much about the storyline as it is slowly revealed but it's all about darkness and corruption and saving everyone (in different ways). I really loved the imagery surrounding the magical aspects of the book, especially the Lakesedge Estate. I want to go to this crumbling mansion with its sprawling lake and dried out gardens. I hope we get to see it returned to its former glory though!
All in all, Lakesedge was an enjoyable read, and I recommend it to anyone who is a fan of a spooky gothic romance!
© 2021, Chiara @ Books for a Delicate Eternity. All rights reserved.
trigger warning

reference to death of parents and sibling, child abuse, vomiting, self harm, blood and gore, reference to past suicide attempt, death themes, drowning

Posted on: September 3, 2021 • By: Chiara