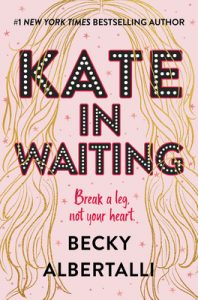 What: Kate in Waiting by Becky Albertalli
Who: Balzer + Bray
When: April 20th 2021
How: A copy of this novel was provided by SparkPoint Studio.
Contrary to popular belief, best friends Kate Garfield and Anderson Walker are not codependent. Carpooling to and from theater rehearsals? Environmentally sound and efficient. Consulting each other on every single life decision? Basic good judgment. Pining for the same guys from afar? Shared crushes are more fun anyway.

But when Kate and Andy's latest long-distance crush shows up at their school, everything goes off script. Matt Olsson is talented and sweet, and Kate likes him. She really likes him. The only problem? So does Anderson.

Turns out, communal crushes aren't so fun when real feelings are involved. This one might even bring the curtains down on Kate and Anderson's friendship.
When I added Kate in Waiting to my TBR I was somehow under the impression that Kate was bi. So first things first: Kate is not bi. Which I wish I would have known because it set up a certain expectation for me and there's always this niggling disappointment when you go into a book expecting it to be queer and it isn't. Truth be told I don't know where I got this idea, but I just wanted to clarify in case other folks were under this same impression.
Kate in Waiting follows sixteen-year-old Jewish (own voices rep!) theatre kid Kate as she and her best friend fall for the same guy. Again. Because that's their thing: mutual crushes. I for one never had a mutual crush when I was in high school and after reading Kate in Waiting I can say that I'm happy I didn't. Because while it may seem all fun and games for a while it's actually a pretty toxic situation. Especially when you're basing your feelings for a person on whether or not your friend thinks they're crush worthy or not. Which Kate did on multiple occasions.
In all honesty I felt like Kate in Waiting was a bit much. There is only so much quirkiness I can take before I feel exhausted by it. The last 35% of the book was the most enjoyable for me because the quirkiness was interspersed with some sincerity and I really need that to thrive. I almost DNFd the book because I just couldn't get past how quirky Kate and everyone around her was and I'm going to leave it at that because if I write the word quirky one more time I'm-
I've read quite a few books recently with divorced parents and I'm loving it. I don't remember reading many (or any) contemporary YA books with divorced parents when I was in high school, and yet most of the teens I knew at the time had divorced parents. So it's great now that this situation is represented more in books for teenagers. The books aren't glazing over it as if it's easy and doesn't have impacts on your mental health, which is so important. In Kate in Waiting, Kate's parents have been divorced for quite a while so Kate has a new routine but one of her friends is in a fresh situation and he hasn't even begun the healing process yet.
There's a lot of high school drama in Kate in Waiting, probably a little more so than your general YA contemporary and that was an area I struggled to connect with. I can handle a certain amount but just like the you-know-what aspect mentioned above there was just a bit much. By the end I felt if I had to read the word fuckboy one more time I was going to hurl my kindle across the room. Besides its overuse I felt like it was an incredibly judgemental way of referring to a number of students, and there wasn't really any addressing of the fact which left something to be desired.
In the end I liked Kate in Waiting a bit. Not a lot, but a bit. I wish the whole book had been a bit more like the last third or so because I enjoyed that a lot more than the first 65%. I know there are some readers out there will fall head over heels in love with Kate and all her friends but unfortunately I'm not one of them.
© 2021, Chiara @ Books for a Delicate Eternity. All rights reserved.
trigger warning

reference to past bullying, divorced parents, character with social anxiety, Harry Potter references

Posted on: April 15, 2021 • By: Chiara