What: Fin & Rye & Fireflies by Harry Cook
Who: Ink Road
When: August 12th 2020
How: A copy of this novel was provided by New South Books for review.
"It started with a kiss…as love stories often do. Jesse Andrews had the arms of a Greek god and he was on the track team. The night of our kiss fell on a Friday."

Then, only a few days later, Fin's world is turned upside down – and not in a good head-over-heels-in-love way – when Jesse cruelly outs him. An event which ultimately leads to his family leaving town.

But a fresh start isn't going to change the truth of who Fin is. And it's not going to stop his sexuality causing everyone all sorts of problems. Everyone, that is, apart from his new best friend Poppy, her girlfriend-in-waiting June, and his new crush Rye… So, while Fin and Rye are enjoying some seriously intimate moonlit moments together, Fin's parents decide to pack him off to the local ReSouled 'therapy camp'.

It's a nightmare – and there's no easy way out. Can Fin's squad hatch a plan outrageous enough to spring him before the 'conversion' acolytes force him into the straight and narrow?
When I was sent through the media release for Fin & Rye & Fireflies I was immediately keen as I always am for queer YA written by Australian authors. When I was reading Fin & Rye & Fireflies there were good things and things I found confusing, and I thought I'd share them here in list format because y'all know how much I love lists.
The Good
– It's told in dual POV
I was surprised when I read a review of Fin & Rye & Fireflies that mentioned both Fin and Rye have chapters because the summary only mentions Fin. I think the story was more fleshed out for having chapters from both boys, and I'm glad to say that they stood out from each other. I never once had to remind myself whose chapter I was reading, which is always good.
– Thelma
Thelma is Rye's dog and before you get scared, she doesn't die. In fact nothing bad happens to this pupper except all the good things like hugs and kisses and treats. It was so nice to have an animal character in Fin & Rye & Fireflies because animals can play such a huge role in people's lives and books aren't really capturing that.
– The friendship group
Fin was integrated into Poppy, June, and Rye's friendship group almost immediately and I loved it. Queer kids do tend to bond pretty quickly and that was evident in the friendship between these four teenagers. The way they supported each other was adorable, and I loved their little friendship dates as well.
– The romance
The romance between Fin and Rye was really sweet and it was all the cuter because we got the pining from both boys. I wish there had been a little more of the boys getting to be cute and happy together without all the drama, though.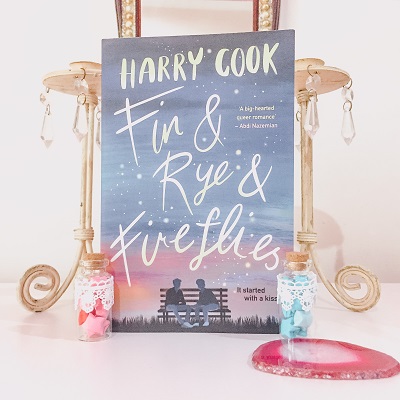 The Bad
– It's set in Australia but not
There is one passing sentence where a character mentions they live in Australia, but other than that and references to a cockatoo and a Holden commodore this book was very US centric. The inclusion of diners and no school uniforms and Dunkin Donuts felt like it was very much catering to the US audience, which is really sad. I would have loved to see more nods to the fact that the book was set in Australia because honestly I didn't think it was until the character mentioned it.
– The entire conversion therapy arc
If I'm being entirely honest I think Fin & Rye & Fireflies could have missed the conversion therapy arc in its entirety. There was enough strife in the story and between Fin and his parents without including the threat and actual enrolment in conversion therapy. Fin had already been outed against his will, sent to a new town, unwillingly been enrolled in "how to be a good Christian man" workshops, and experienced daily homophobia from his parents. I'm not saying it's unrealistic or untrue to life but in a 350 page book where conversion therapy was introduced, experienced, and seemingly recovered from in the last 50-odd pages was just too much.
SPOILER It was also really weird when Fin's parents decided to get him out they left him in another night because he wouldn't answer the phone. He's a minor and ou're his parents!! You can go and goddamn pick him up, you don't need him to answer the conversion therapy camp phone FFS. END SPOILER
~
All in all I did like Fin & Rye & Fireflies though I think it could have used more work. If more Australian-isms were included, if Fin and Rye were allowed to be happy, if the conversion arc wasn't included or at least toned down I think Fin & Rye & Fireflies had serious potential to be a standout. But unfortunately it got a little lost trying to do too much in one story.
© 2020, Chiara @ Books for a Delicate Eternity. All rights reserved.
trigger warning

transphobia, use of ableist language, bullying, religious based homophobia, sexual assault, absent parent, reference to parental drug and alcohol abuse, reference to suicide, drug use, emotional abuse, conversion therapy

Posted on: September 5, 2020 • By: Chiara