I know sometimes when you read a book and the thought of an adaptation crosses your mind and everything in you screams no. I've had that feeling more than I could count. However, on the other hand, every so often I'll read a book and the thought of an adaptation actually makes me go yes. And here are a few books that I think would make awesome movies:
Night Swimming by Steph Bowe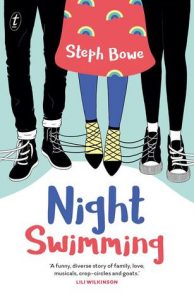 Imagine being the only two seventeen-year-olds in a small town. That's life for Kirby Arrow—named after the most dissenting judge in Australia's history—and her best friend Clancy Lee, would-be musical star.
If anyone has seen that Aussie movie Spin Out, I think that Night Swimming would be a cuter, better version of that. It would just be so very Australian, and I think everyone would love it. Especially the goat! I mean, who doesn't love a cute, cranky goat? Also, I think Kirby and Clancy's antics on screen would be A+ adorable.
Ida by Alison Evans
Ida struggles more than other young people to work this out. She can shift between parallel universes, allowing her to follow alternative paths. One day Ida sees a shadowy, see-through doppelganger of herself on the train. She starts to wonder if she's actually in control of her ability, and whether there are effects far beyond what she's considered.
I mean, if that little snippet from the synopsis doesn't make you think that Ida would make a great movie… I can't help you. Because I think it would make an awesome movie. Parallel dimensions! Doppelgangers! I feel like it would almost have an Orphan Black vibe to it because the actor for Ida would be playing multiple versions of the character. Ah, it would be so cool.
The Interrogation of Ashala Wolf by Ameblin Kwaymullina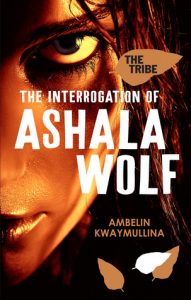 Ashala Wolf has been captured by Chief Administrator Neville Rose. A man who is intent on destroying Ashala's Tribe — the runaway Illegals hiding in the Firstwood. Injured and vulnerable and with her Sleepwalker ability blocked, Ashala is forced to succumb to the machine that will pull secrets from her mind. And right beside her is Justin Connor, her betrayer, watching her every move.
The whole time I read read The Interrogation of Ashala Wolf I thought it would make an awesome movie (or TV show). I loved reading about an Aboriginal Australian girl at the helm of a fantasy dystopian, and I loved how Aboriginal Australian culture played a part in the novel, as well. There was a huge focus on environmentalism, and how humans should be taking better care of this beautiful planet we live on. I seriously think that an adaptation The Interrogation of Ashala Wolf would be an incredible piece of media.
A Corner of White by Jaclyn Moriarty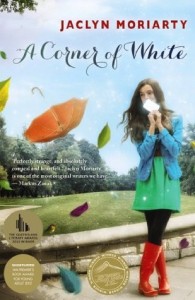 Madeleine Tully lives in Cambridge, England, the World – a city of spires, Isaac Newton and Auntie's Tea Shop. Elliot Baranski lives in Bonfire, the Farms, the Kingdom of Cello – where seasons roam, the Butterfly Child sleeps in a glass jar, and bells warn of attacks from dangerous Colours. They are worlds apart – until a crack opens up between them; a corner of white – the slim seam of a letter.
A Corner of White is one of the most magical books I've had the pleasure of reading. It's like nothing else I've ever picked up. It almost has a kind of Alice in Wonderland feel to it because the Kingdom of Cello is so incredibly imaginative. I think it would be wonderful to see the contrast between modern day England, and a wild, colourful place. Also, letters. Also, a super cute ship.
Queens of Geek by Jen Wilde
Three friends, two love stories, one convention: this fun, feminist love letter to geek culture is all about fandom, friendship, and finding the courage to be yourself.
Queens of Geek was just so cute??? I loved reading about three friends going to a comic-con for the first time, and totally freaking out and fangirling over the pop culture that they love. There are two adorable romances in Queens of Geek, and both of them feature super supportive love interests. I think an adaptation of Queens of Geek would resonate with so many teens for so many different reasons.

What are some #LoveOzYA you'd like to see adapted? Let me know below!


Posted on: August 18, 2020 • By: Chiara