Books for Life is where I share bookish lists, recommendations, and favourites. You can also catch me talking about non-bookish things here, as well as my life outside of blogging. Today I'm talking about…
the best and worst of 2018
I actually cannot believe it's already 2019. I feel like 2010 was three months ago. Next year will be my ten year high school reunion. Jesus. I'm old. Anyway. In freaking out and looking back I thought I'd share some bests and worsts of 2018. I added in disappointments and surprises too because why the hell not? There'll also be movies on this list because I watched more movies than I read books so!! Here we go:
best books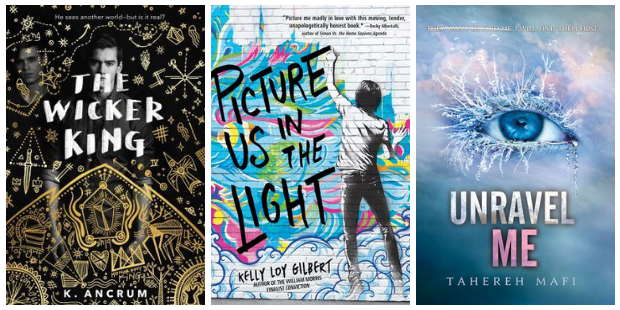 The Wicker King: If this came as a surprise to anyone them SHAME. SHAAAME. Because The Wicker King is my entire everything so of course it was going to be the best book I read in 2018. If you want to know why I love it and why you should read it please click here.
Picture Us in the Light: I freaking adored Picture Us in the Light. I desperately want more people to read it because I really feel like it flew under the radar and yet it deserves so much attention because it's amazing.
Unravel Me: This was a re-read but I fell head over heels with Unravel Me upon reading it the second time. Did I cry when Warner said he was tired? YES I DID. Originally I wasn't going to include it on this list because it was a re-read but I loved it so much it deserves to be here.
best movies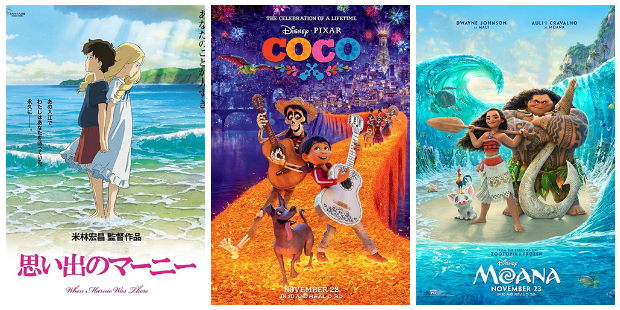 When Marnie Was There actually takes the cake as the best movie I saw in 2018. It was absolutely and incredibly beautiful, and even though I curse myself for not watching it before 2018 I feel like I watched it at the right time. There is something so special about this film and if you haven't watched it already I urge you to! And if you need more convincing, you can read my post on why you should watch it right here.
Coco was one of the first films I watched in 2018 and it had a lasting effect on me, that's for sure. There was so much heart in this little movie and it had me in tears because of laughter and heartbreak. I know it's one I'll watch again.
Moana was so beautiful!! I don't know why I didn't watch it earlier but there you go. All I'll really say about this one is: believe the hype.
worst books

The Abyss Surrounds Us: I was lied to. I believed the hype for this one so I bought it. And then read it. And then hated it. There was bountiful animal death and cruelty, character changes with no development, and a fast-moving romance that was unbelievable. I was not a fan.
I Had Such Friends: Well. I don't have anything else to say about this book that I didn't say in my review so if you want to read that it's right here.
The Dark Light: I bought this at the bookstore a while ago because it was f/f and I hadn't heard of it before. Big mistake. It was weird in a really bad way, and the ending was awful.
worst movies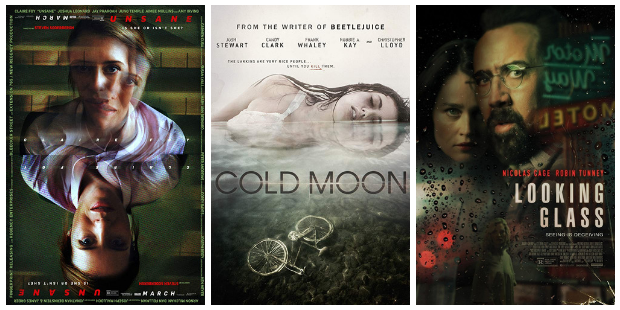 Unsane is not only the worst movie I saw in 2018 but is possibly the worst movie I have ever seen. I don't even know where to begin with this piece of shit. The awful quality, the horrendous story, the shitty acting? The only thing you really need to know about Unsane is that you shouldn't watch it.
Cold Moon looked promising. And then when I actually watched it… you know those times where you watch a movie and you're just kind of like 'what the hell am I seeing with my own two eyes?' Yeah, Cold Moon is one of those gems.
Looking Glass… what can I say? Nic, you failed me. I actually thought this movie was going to be some weird, horror take on Alice in Wonderland and boy was I wrong. It was about a peeping tom, rip me.
disappointing books

All Out: This was actually one of my most anticipated reads of 2018 so it sucks that it ended up being one of the most disappointing. I thought that an all-queer anthology would be the light of my life but I ended up not liking nearly all of the stories *sobbing*
The Lady's Guide to Petticoats and Piracy: No piracy, smh. Honestly, this book was just such a letdown after the first one. I thought that I'd love it but the story was so different to what I expected it to be and there was not enough about Felicity's queerness, either. If you want to read more in-depth thoughts on this one here is my review.
Ship It: HOW YOU DISAPPOINTED ME, YOU TOXIC LITTLE SHIT. GO SIT IN YOUR CORNER, ALONE. (My review is here if you're interested.)
disappointing movies

Hereditary… what the fuck? I trusted your trailer. Your trailer was good. But you? You were trash, Hereditary. Trash.
The Greatest Showman was incredibly hyped up and while I never really bought into it I was still somewhat looking forward to it. In fact, I was ready to be surprised. And I wasn't. I thought this movie was good, but that was it. None of the songs blew me away, and I thought the story and character/relationship development really needed some work. And the movie was short – there was definitely time for both to be fixed! But they weren't. Sigh.
The Shape of Water was just nothing like I expected it to be. I thought it would be dark and romantic but… it just wasn't. I didn't buy into the romance at all (the lust-mance, let's be real) and after it finished I was just left very meh about the whole thing.
surprising books

Windwitch: After not really being blown away by Truthwitch I didn't expect all that much from Windwitch but I absolutely loved it! I loved the new story, the new characters, the new relationships, and the new setting. Bonus: there's a queer lady POV character in this book!!
Inkmistress: To be honest I didn't adore Of Fire and Stars but I did enjoy it enough to want to read this prequel. I'm so glad I did because Inkmistress ended up being one of my absolute favourite books of 2018. A bisexual heroine, queernormative society, and animal soulmates. If those aren't enough to get you to pick up this book you can read my review here.
You Know Me Well: I actually preordered this book back in the day because David Levithan. I put it off until January of 2018 to read it and I don't know why I waited so long because this book is good! Really good!! Even though it's Levithan I didn't expect to fall in love with this one as much as I did. You Know Me Well is about love but more than that it's about the amazing friendship that forms between two queer characters and that's why I loved it so much.
surprising movies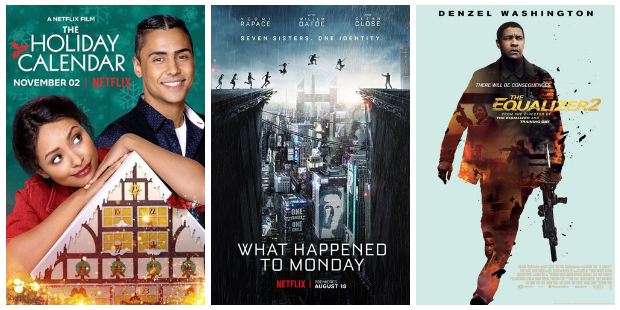 The Holiday Calendar has made it on to my 'must watch every Christmas' list because it is damn adorable and damn good! I hadn't really heard anything about it (shame on everyone who hyped up A Christmas Prince and not this) so when I turned it on I didn't really have any expectations. But even so, I think any expectations I might have had would have been completely met. This movie is cute af and I recommend it 110%.
What Happened to Monday was so good!! I watched it because I liked the idea of seven sisters all being the same person. I thought it would actually be a little different to what it was, but the difference made the movie better. I won't say much about this one because I think it's better to go in not knowing a lot.
The Equalizer 2 was a surprise because even though I enjoyed the first movie I liked this one so much better! Robert McCall is a fucking badass and I love the fact that these movies are about him protecting the people he cares about. The scenes where he analyses something and kills like 15 people in 60 seconds are out of this world. By far the only action movies I actually love.

What were some of your best and worst reads/watches of 2018? Any the same as mine?


Posted on: January 2, 2019 • By: Chiara