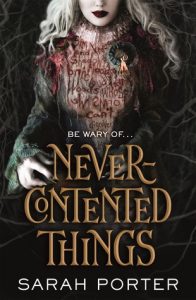 What: Never-Contented Things by Sarah Porter
Who: Tor Teen
When: March 19th 2019
How: A copy of this novel was provided for review via Net Galley on behalf of the publisher.
Prince and his fairy courtiers are staggeringly beautiful, unrelentingly cruel, and exhausted by the tedium of the centuries ― until they meet foster-siblings Josh and Ksenia. Drawn in by their vivid emotions, undying love for each other, and passion for life, Prince will stop at nothing to possess them.

First seduced and then entrapped by the fairies, Josh and Ksenia learn that the fairies' otherworldly gifts come at a terrible price ― and they must risk everything in order to reclaim their freedom.
Why I Did Not Finish Never-Contented Things
I knew from almost the second I started Never-Contented Things that the book wasn't going to be for me. I ended up DNF-ing (not finishing) it because life is far too short to read books you're not enjoying. So, after a torturous 24% I called it quits. And here are the reasons why:
1) The writing
The writing was overly flowery, and to be honest I think the word flowery is far too kind a word for what I read. I read passages that made absolutely no sense because the metaphors were so ridiculous. I read sentences about the sky apparently trying to swallow people in blue. I read things that I didn't like and to be honest another 75% of this writing was not possible for me.
2) The "romance"
The romance was between someone on the cusp of 18 and someone on the cusp of 16. The almost 18 year old actually referred to herself as 18 so it felt like a huge age difference, and definitely implied a big power imbalance. Moreover, the love interests were foster siblings, and the 18 year old referenced, one multiple occasions, to her love interest as her brother. It was all just very strange and uncomfortable to read.
3) The promiscuous pansexual
If you care to look there are lots of people talking about why the promiscuous bisexual trope is incredibly harmful, and for the most part I think that can be applied to a promiscuous pansexual as well. In this book, the 15 year old boy character – Joshua – is pansexual. Points for using the word on page, but minus points for making him promiscuous just to "bide the time" until his foster sister would allow herself to be with him. Hard pass.
 4) Literally everything I read
Honestly, there was nothing redeemable in the 24% of this book that I read. I disliked every second I spent reading this book and I wished I had DNFd it in the very beginning like I wanted to. But I also wanted to give the book a chance so here we are. There are just so many things I disliked about what I read that I could have a huge, long list of them but instead I wanted to keep it readable and focus on the things that really stood out to me. But this last point is a blanket one to cover all the other things I didn't like about this book. For example, the scene where the main girl character is bleeding and a "faerie" girl laps it up with her breasts, all the while moaning and apparently having some sort of pleasurable experience from it. And how a "faerie" boy created multiple copies of a naked seventeen year old. I'm all for not shying away from sex and whatnot in YA but this truly felt like the author just made the ages YA appropriate but not the content, which is something that is happening far too often in YA nowadays. Authors, remember who the heck you're actually writing for, please and thanks.
© 2019, Chiara @ Books for a Delicate Eternity. All rights reserved.
trigger warning

use of ableist language, reference to past sexual assault/rape, possible drugging (spiked drink), missing foster sibling, blood play – please note this list is not complete as I did not finish the book

Posted on: March 19, 2019 • By: Chiara