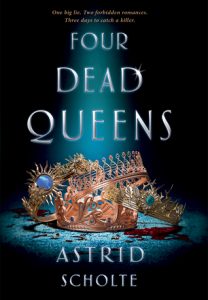 What: Four Dead Queens by Astrid Scholte
Who: Allen and Unwin
When: March 1st 2019
How: A copy of this novel was provided by Allen and Unwin for review.
RRP: $19.99 (AUD)
Four Queens. A divided nation. A ruthless pickpocket. A noble messenger. And the murders that unite them.

Keralie Corrington is a talented pickpocket. She steals for the black market in her quadrant. Her nation is divided into four regions, each strictly separated from the other. Four queens, one from each quadrant, rule as one.

When Keralie steals a particularly valuable item from a messenger, she discovers she's intercepted instructions to murder the queens. Hoping to find the culprit, Keralie teams up with Varin Bollt. But with Keralie and Varin each keeping secrets – and the lives of the queens hanging in the balance – everything is at stake. And no one can be trusted in a world full of ruthless thieves, black markets, a golden palace, daring heists, royal intrigue, noble messengers, forbidden love, four queens – each with a secret, and, of course, murder.

An enthralling fast-paced murder mystery where competing agendas collide with deadly consequences, Four Dead Queens heralds the arrival of an exciting new YA talent.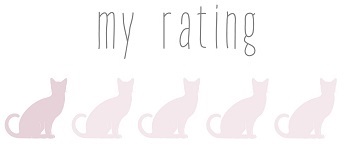 I don't actually know where to begin writing this review. I can't believe I'm still having to write a review like this in 2019. I will start off with this statement:
Authors, publishing: STOP BURYING YOUR GAYS.
I do not care if it's ignorance or naivete or whatever the fuck reason there is that you have buried the gays in your book – you need to stop. Someone needs to start catching this and stopping this. We can't keep having books where the only queer characters are killed. What possesses an author, and then agent and editor and everyone involved in the publishing of a book, to think that this is okay? Because it's not. It is NOT okay to kill off the only queer characters in your book.
I had been pretty excited for Four Dead Queens. Australia has a few well known authors, but most of them got that way over time, so to see a debut author on the worldwide stage was exciting. And besides that, Four Dead Queens was combining my two favourite genres: fantasy and mystery/thriller. So I requested a copy as soon as I found out that Allen and Unwin were publishing and I was lucky enough that they sent me a copy.
And then I started the book. And it was good – entertaining and murdery, which was exactly what I wanted. And then I realised that the very first queen to die was a queer queen. And then I realised the third queen to die was the first dead queen's lover. I also realised there were no other prominent queer characters in the novel at all  – in fact the only other queer character had one line in the entire novel. One line does not a queer character make.
When I realised all of this, I was just so disappointed. That once again I was reading a book where the only queer characters are killed. Killed. I just cannot wrap my head around why anyone still thinks this is okay. Why anyone is still okaying the death of queer characters in a novel where they are the only queer characters. The message this sends is that queer people will die. That queer people will die while the non-queer people will thrive. That queer people are expendable because in the end there is a non-queer person who will replace them. These are the kinds of messages that killing off your only queer characters sends. Queer people read these books and get these messages and why doesn't anyone care? Why doesn't anyone go: oh, hey, you've killed off your only queer characters – this sends really harmful messages to queer people and we need to rectify this. Why does no one care that it hurts people?
I am just so goddamned tired of writing reviews about why it's not okay to kill off your queer characters. I am so tired of trying to get the message across that it hurts and effects real, living people when you fuck them over in a fictional world. I am tired that it is 2019 and I am still talking about why this shouldn't be happening. Authors, do better. Publishing, do better.
© 2019, Chiara @ Books for a Delicate Eternity. All rights reserved.
trigger warning

use of ableist language, ableism, multiple graphic murders (including drowning and fire), parent in coma, attempted murder, reference to inhumane experiments, protagonist with claustrophobia, character with degenerative eye condition, fire

Posted on: February 26, 2019 • By: Chiara