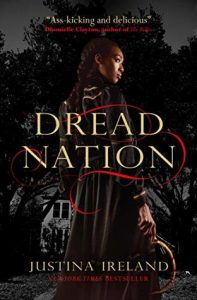 What: Dread Nation (Dread Nation #1) by Justina Ireland
Who: Titan Books
When: February 26th 2019
How: A copy of this novel was provided by New South Books for review.
Jane McKeene was born two days before the dead began to walk the battlefields of Gettysburg and Chancellorsville—derailing the War Between the States and changing America forever. In this new nation, safety for all depends on the work of a few, and laws like the Native and Negro Reeducation Act require certain children attend combat schools to learn to put down the dead. But there are also opportunities—and Jane is studying to become an Attendant, trained in both weaponry and etiquette to protect the well-to-do. It's a chance for a better life for Negro girls like Jane. After all, not even being the daughter of a wealthy white Southern woman could save her from society's expectations.

But that's not a life Jane wants. Almost finished with her education at Miss Preston's School of Combat in Baltimore, Jane is set on returning to her Kentucky home and doesn't pay much mind to the politics of the eastern cities, with their talk of returning America to the glory of its days before the dead rose. But when families around Baltimore County begin to go missing, Jane is caught in the middle of a conspiracy, one that finds her in a desperate fight for her life against some powerful enemies. And the restless dead, it would seem, are the least of her problems.
It's an historical horror novel
Dread Nation takes place in USA in the late 1800s… but with zombies. Our main character, Jane, was taken from home and sent to a combat school where she can become a rich white lady's Attendant – someone who'll kill zombies if they try and eat said rich white lady. Even though Jane wanted to stay at home with her mother and help out with the farm, it turns out she's pretty good at killing zombies. Which is where all the shit hits the fan in this novel. Because Jane kills some zombies in front of the evil Mayor. And then gets sent away to some creepy cultish town in the middle of nowhere.
It's always interesting to read alternate history books when you don't know a lot about the country's real history of the time. So I can't really say much about how the story took real life situations and turned them into zombie-fied versions, but it felt like it was weaved into the world pretty well from where I was sitting.
It's got #ownvoices bisexual and Black rep
Jane is a bisexual Black woman, and so is the author. I think this kind of rep is incredibly important because the white queer experience is not the same as the queer experience that Black people (and other people of colour) have. Also, we need more Black spec fic that's written by Black writers.
The way Dread Nation wove historical racism and modern racism intp this story was pretty incredible. Sure, some things have changed, but the alarming thing was how much hasn't changed. So even though this is an alternate historical novel with zombies, one of the prevailing themes of the novel was racism and the treatment of Black people in America from the time in which the book is set to the modern day.
It's got harmful and problematic Native American rep
Dread Nation touched on how Native American kids were taken from their homes and forced into schools and also had one prominent Native American character. However, Dr Debbie Reese wrote a review about these elements and the harmful Native American rep in Dread Nation here. I really urge you to read it. Like I always say, we should not prioritise one marginalised community over another. We should not ignore harmful aspects in books just because we've found positives in that same text.
Friendship is important
Friendship definitely played a more important role than romance in Dread Nation. In fact, there was no romance at all, just some crushing and some ogling. The friendship between Jane and Katherine is one of the most important relationships in the book. They start off as enemies, who are both vying for the top spot at school and so vastly different from one another. Jane is rough around the edges and constantly getting in trouble, whereas Katherine is a teacher's pet and quite prim and proper. But neither girl is popular at school. Jane is a bit too much of everything and Katherine is shunned for the colour of her skin because she can pass as white. However, these girls make an incredible team and by the time they've seen beyond their school stereotypes they realise they have more in common than they thought and they come to care for each other deeply.
I loved this aspect of Dread Nation so much because Jane and Katherine's relationship was so developed and important and we usually only see this in the romantic relationships of YA books. Also, Katherine is aro-ace (terms not used on page but her explanations of her feelings were), which is awesome because queer best friends!!
~
Overall, I enjoyed Dread Nation however I am well aware of its downfalls. I haven't yet determined whether I'll read the sequel because on the one hand I did thoroughly enjoy the story and characters however I don't want to disregard the harm that the Native American rep in this book has caused Native American readers. I can only hope that the problematic Native American rep will be rectified and addressed in book two but if not I'll probably end up passing.
© 2019, Chiara @ Books for a Delicate Eternity. All rights reserved.
trigger warning

racism, colourism, reference to slavery, use of ableist language, forceful removal of children from family, death of friend, depictions of blood and gore, torture, multiple deaths, reference to past child abuse

Posted on: April 9, 2019 • By: Chiara