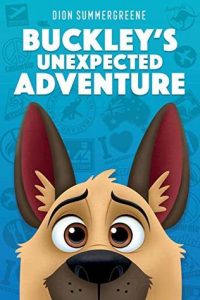 What: Buckley's Unexpected Adventure by Dion Summergreene
Who: Dion Summergreene
When: April 12th 2019
How: A copy of this novel was provided by the author for review.
Buckley, a young, enthusiastic detector dog, was about to clock off from his regular shift at the Brisbane International Airport when he uncovered a shipment of smuggled exotic animals. Discovering that all but one, a chameleon named Ciara, and two turtle eggs, had perished on the long journey, Buckley makes it his mission to track down who is behind the smuggling ring and ensure no more helpless and endangered animals are killed. A fire is ignited within Buckley and he is determined to return Ciara to her home and reunite her with her family. Breaking all of his obedience training whilst battling his usual insecurities and self-doubt, Buckley, Ciara and a charismatic Californian mouse named Bo, set out on an international adventure that propels them from a world of structure and safety into dangerous, risky situations.With fast-pace, witty humour and suspense, Dion Summergreene takes young readers on a crime-fighting adventure like no other to discover an exotic world through the eyes of man's best friend.
Buckley's Unexpected Adventure tackles a big, real world problem by taking kids on an adventure with a familiar face – that of an adorable German Shepherd. Buckley is an energetic, loyal, and proud detector dog at the Brisbane International Airport in QLD, Australia. On one of his shifts Buckley discovers an illegal shipment of exotic animals and that's where his unexpected adventure begins.
The whole time I was reading Buckley's Unexpected Adventure I imagined it as one of those Disney movies about dogs that can talk. Especially the Christmas ones where there's one big catastrophe and the helpful pooch swoops in to save the day. Funnily enough, Buckley's Unexpected Adventure was actually set during Christmastime so I feel like this comparison was made even more perfect. In all honesty I think Buckley's Unexpected Adventure would make an excellent kids film because it has just the right amount of cuteness and humour, but it's also teaching kids about a real issue – that of the illegal animal trade.
Aside from feeling like the perfect kids film about a dog, Buckley's Unexpected Adventure read like a book a kid could really fall in love with. Buckley is an adorable protagonist who isn't perfect but certainly tries his hardest. He really cares about animals, and he is passionate about his job. But Buckley's life isn't all sunshine and rainbows. He has to deal with bullying from his brothers and resentment from his father because of his small size and his career as a detector dog instead of a police dog. I feel like this element of the story could have good parallels to things that happen in a kid's life, and the message at the end is to be proud of who you are, and know that you can achieve the things you set out to – even if they get a bit derailed along the way (like Buckley's!).
Alongside the endearing protagonist, the side characters in Buckley's Unexpected Adventure are cute and quirky as well and I feel like they add the perfect ingredient to the book. There's the little mouse Bo, who is Buckley's best friend and a chronic joke-cracker, and Ciara, who is the only surviving chameleon in the shipment that Buckley finds at the beginning of the story. Along the way the trio meet a range of creatures, all of which have their own back stories and motivations. Each character brought something different to the story, and helped Buckley and his friends on their journey.
All in all, Buckley's Unexpected Adventure is a book that animal lovers both young and old will enjoy. By mixing a heavy topic like illegal animal trade with cute antics from adorable characters Buckley's Unexpected Adventure takes the reader on a ride they won't soon forget.
© 2019, Chiara @ Books for a Delicate Eternity. All rights reserved.
trigger warning

animal death, animal cruelty, bullying, use of ableist language, apparent death of a friend, reference to past animal abuse

Posted on: August 6, 2019 • By: Chiara