Books for Life is where I share bookish lists, recommendations, and favourites. You can also catch me talking about non-bookish things here, as well as my life outside of blogging. Today I'm talking about…
perfect books to read on halloween
Even though Halloween isn't really that big over here in Australia, I still like it because it's all about spooky things like witches and black cats and horror movies. I could list horror movies for days but today I thought I'd share some books that I think would be perfect to read on Halloween, and here they are:
murder mysteries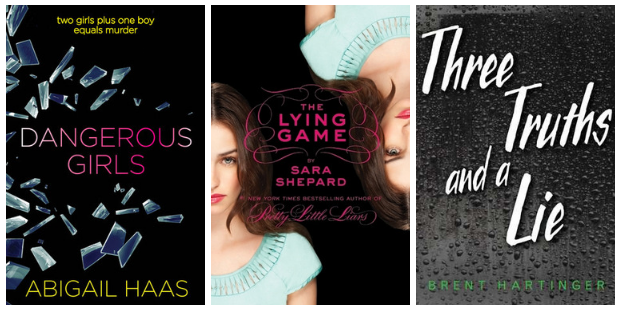 Dangerous Girls by Abigail Haas: As if any recommendation post written by me is not going to include Dangerous Girls. This book is perfect if you want that murder mystery feel for Halloween, plus bonus points for being about bi girls.
The Lying Game by Sara Shepard: I was mildly obsessed with this series when I was a teen, and even though I guessed who the killer was, I was second guessing myself a lot over the course of the story. Great if you're wanting heaps of teen drama mixed in with impostering and a whodunnit.
Three Truths and a Lie by Brent Hartinger: Honestly, this book is worth reading if only for the ending. I loved it, and read this whole book in one night *muscled arm that looks like a chicken leg emoji* Perfect if you're looking for a book where teens go to a secluded cabin in the woods like it never ends badly.
paranormal shenanigans

Shallow Graves by Kali Wallace: This one is mild horror about a girl who wakes up as a zombie!! And goes on a really weird journey to find out more about, well, everything. This also has murder mtstery vibes becuase how the heck did the main character end up a zombie? Bonus points for the MC being bi and no romantic plot.
Sleep No More by Aprilynne Pike: This girl sees the heckin' future! But she's not allowed to interfere. So what does she do when she sees the death of one of her classmates?
Witch Eyes by Scott Tracey: BOY WITCHES! I REPEAT: BOY WITCHES. And rich people being powerful and awful. And forbidden romance! Bonus points for the MC being gay.
get me out of here

A Drop of Night by Stefan Bachmann: This book features a group of teens who are stuck in a murder house with horrible traps and creepy rooms that try to kill them. So of course I would recommend this for Halloween. Also: dead people.
the

crème de la crème



Down Among the Sticks and Bones by Seanan McGuire: If you're worried that this book is the second in a series, don't be. It can easily be read on its own since the goings-on in this book actually happen before the first book. This book is horror personified, with lots of creepiness, blood, and murder. Bonus points for one of the MCs being queer.
The Diviners by Libba Bray: Not only is this the greatest book of all time, but it is more than appropriate for Halloween. Creepy demon ghost guy! Murders! Teens with powers! 1920s New York! This book is very creepy, and that's why it's perfect for Halloween.
The Unbecoming of Mara Dyer by Michelle Hodkin: Mara Dyer survived when her friends didn't and now boundless creepy shit is happening. People are dying, Mara sees dead people, Mara questions her sanity, Noah Shaw is there. I've read this book twice and thoroughly enjoyed it both times, and think it gives off major Halloween vibes.

What books are you reading for Halloween? Any of these?


Posted on: October 16, 2018 • By: Chiara