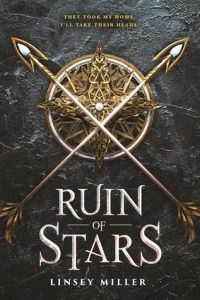 What: Ruin of Stars (Mask of Shadows #2) by Linsey Miller
Who: Sourcebooks Fire
When: July 15th 2018
How: A copy of this novel was provided by New South Books for review.
The thrilling conclusion to the Mask of Shadows duology that weaves a tale of magic, shadows, and most importantly, revenge.

As one of the Queen's elite assassins, Sal finally has the power, prestige, and permission to hunt down the lords who killed their family. But Sal still has to figure out who the culprits are. They must enlist the help of some old friends and enemies while ignoring a growing distaste for the queen and that the charming Elise is being held prisoner by her father.

But there's something terribly wrong in the north. Talk of the return of shadows, missing children, and magic abounds. As Sal takes out the people responsible for their ruined homeland, Sal learns secrets and truths that can't be forgotten.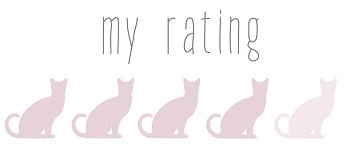 Mask of Shadows is hands down one of my absolute favourite books. I read it for the first time last year and fell in love, and I re-read it in preparation for its sequel – Ruin of Stars. In all honesty, I hadn't any real fear that Ruin of Stars would disappoint, but I am happy to report that it most certainly lived up to its predecessor.
Though I must mention that Ruin of Stars is vastly different to Mask of Shadows. Mask of Shadows is like a queer, darker, gorier version of The Hunger Games, and I adored the constant adrenaline of the storyline. While still queer, dark, and gory, Ruin of Stars focuses a lot more on the political aspect of the world, which is understandable given the ending of Mask of Shadows. But even though Ruin of Stars was so different to the first book in this duology that I fell so head over heels in love with, I enjoyed it immensely and devoured every word.
Ruin of Stars finds our main character, Sal, somewhat adrift. They got everything they wanted in Mask of Shadows, and are well on their way to avenging the death of their family. But none of it makes them feel any better; in fact all of the killing makes them feel less like themself than ever before. Which I felt was heartbreakingly real. So often people place all their hopes and dreams on this one thing and believe that once that one thing happens then their life will be perfect. More often than not that doesn't really happen. There is no one thing that can make us feel more whole or more complete, and to watch Sal come to that realisation was bittersweet. Because I wanted what they wanted, but I also wanted their happiness. Whether they got that happiness in the end I will not say because you should read the book to find out.
Quite a few new characters were introduced in Ruin of Stars but there was also a lot of character growth and exploration of old characters, as well. I loved this because I got to know characters the way Sal did, and I got to discover new things about old friends and not-friends, but also meet amazing and horrible new characters, as well. It was exciting seeing some old, familiar faces pop up that I had hoped would appear again but never knew for sure. This paragraph probably isn't making a lot of sense but overall what I'm trying to say is Ruin of Stars did an excellent job at introducing new characters to know while also bringing old characters into the mix while getting to know them better than ever before.
In terms of plot, I don't feel like I can say a lot about it because it would give spoilers for Mask of Shadows and I also think Ruin of Stars is best devoured when the ins and outs of the story are discovered along with Sal. I will say that there's murder! And mystery! Political intrigue! Romance! Angst! And a whole lot of badassery on behalf of our bestest genderfluid assassin.
I am honestly sad to see this series end, and to say goodbye to Sal. But I know I'll be revisiting them again in no time because I adore this series endlessly and there's every chance I'll be re-reading it before much time has gone by at all.
© 2018, Chiara @ Books for a Delicate Eternity. All rights reserved.
trigger warning

use of ableist language, graphic violence and gore, attempted murder, physical assault, reference to genocide, kidnapping, misgendering, reference to torture/mutilation, murder, reference to queerphobia, reference to murder of friend, war themes, reference to colonisation, reference to robbery/thievery, reference to child abuse, reference to death of family, reference to transphobia, murder of found family member, child soldiers, abduction, inhumane experiments, death by fire, ableism, sexism, characters with terminal illness

Posted on: October 2, 2018 • By: Chiara