What: Girls of Paper and Fire (Girls of Paper and Fire #1) by Natasha Ngan
Who: Hodder & Stoughton
When: November 6th 2018
How: A copy of this novel was provided by Hachette Australia for review.
Each year, eight beautiful girls are chosen as Paper Girls to serve the king. It's the highest honor they could hope for…and the most cruel.

But this year, there's a ninth girl. And instead of paper, she's made of fire.

In this lush fantasy, Lei is a member of the Paper caste, the lowest and most oppressed class in Ikhara. She lives in a remote village with her father, where the decade-old trauma of watching her mother snatched by royal guards still haunts her. Now, the guards are back, and this time it's Lei they're after–the girl whose golden eyes have piqued the king's interest.

Over weeks of training in the opulent but stifling palace, Lei and eight other girls learn the skills and charm that befit being a king's consort. But Lei isn't content to watch her fate consume her. Instead, she does the unthinkable–she falls in love. Her forbidden romance becomes enmeshed with an explosive plot that threatens the very foundation of Ikhara, and Lei, still the wide-eyed country girl at heart, must decide just how far she's willing to go for justice and revenge.

Presented by James Patterson, Natasha Ngan's lyrical, searing, visceral fantasy, Girls of Paper and Fire, will remind us how precious freedom is–and the price we must pay to achieve it.
I think Girls of Paper and Fire was one of my most anticipated reads of 2018. A queer Asian girl at the helm of a YA fantasy? That's something to be excited about. Also, the premise sounded amazing and That Cover.
Even though Girls of Paper and Fire probably won't be making it to my favourite reads of 2018 list that doesn't mean it wasn't a good book. It was. There were just two things that I felt really hindered my enjoyment of it, and here they are:
1) The romance
On the one hand, I really did like the romance. I loved Lei and Wren together, I thought they made a beautiful couple and the way they supported each other was so soft. However, I really feel like they didn't get to know each other very well. As a reader everything Lei knows about Wren you know about Wren. And to be honest, that's not a lot. You know her past, and a little about her present, but as for who Wren is as a person… well, there was a lot to be desired. I wanted to know more about her. I wanted to know enough about her so it would make sense that Lei fell in love with her so quickly. I wanted the epic romance to have an epic beginning, middle, and end. So even though I did like the Wren/Lei endgame, I wanted to be more convinced of their love from the very beginning. And I think having more character development for Wren would have been a huge aid in that.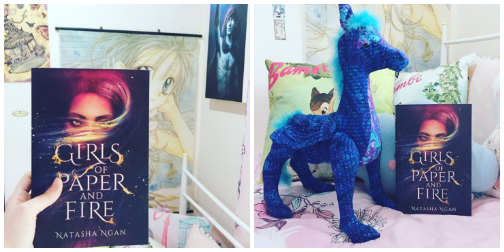 2) Lei's passivity
From the moment Lei was taken, she was almost immediately resigned to her fate. She made one singular attempt at getting away, and then she kind of settled into the fact that she was going to be a Paper Girl. I kept on waiting for her to rail against the system and fight back but it never really came. She went to her lessons and she dressed up in her fancy dresses. Only a handful of times did she do anything about her situation, and even then most of it was at the end.
I know that Lei's situation was an impossible one, but even in her internal monologues and reflections she seemed non-resistant to the fact that all her autonomy had been taken away – not just her bodily autonomy, which she did focus on, but all her autonomy as a person. Even when she was going along with all her lessons and meals and everything else it never felt like she was doing it because she had a plan to execute and had to fly under the radar. She was just doing them all because she had to. I guess I just wanted a little more fight from Lei because she had the potential but too much of the novel was Lei settling in to palace life as a Paper Girl and not enough of it was focused on her wanting to take back control of her life.
~
So those are the two reasons why I didn't fall in love with Girls of Paper and Fire. I felt both aspects really impacted the story for me because I wanted to fall in love with Lei and Wren's love and I also wanted Lei to show up for herself more than she did.
There were, however, many aspects I enjoyed about Girls of Paper and Fire, like the world building, the demon lore, the examination of rape and sexual assault and their effects on survivors, and the fact that this novel was about girls in all their imperfections. I will most certainly be continuing the series as I'm invested in Lei's journey now, and I think the things that were missing for me in this book will show up full force in the sequel.
© 2018, Chiara @ Books for a Delicate Eternity. All rights reserved.
trigger warning

graphic animal death, torture, slavery, rape (off page), sexual assault, kidnapping, hostage situation, multiple murders, racism (fantasy context), use of ableist language, fire, reference to death of mother, forced sex work, non-consensual invasive medical examination, physical assault, reference to death of family, war themes

Posted on: November 13, 2018 • By: Chiara