What: Boy Meets Hamster by Birdie Milano
Who: Macmillan Children's Books
When: June 12th 2018
How: A copy of this novel was provided by Pan Macmillan Australia for review.
Fourteen-year-old Dylan Kershaw's idea of a dream holiday includes at least three things: beaches to bask on, cosmopolitan culture, and a chance for romance (or at least his first kiss) with another boy. Unluckily for Dylan, this year his mum's treating the family to the least dreamy holiday ever: a £9.50 break at Starcross Sands, Cornwall's Crummiest Caravan Park.

But Starcross Sands might not be so bad after all, especially if Dylan can win the heart of Jayden-Lee, the gorgeous boy in the caravan next-door. There's only one thing standing in true love's way: the park's massive hamster mascot, Nibbles, who seems to have it in for both Dylan and his romantic chances. Dylan's best friend, Kayla, claims that appearances can be deceptive: so is Jayden-Lee just as lovely beneath the surface, and what could be lurking under Nibbles' furry face?
There were four main things I liked about Boy Meets Hamster and because I like writing reviews in list form, here they are:
1) The age of the protagonist
The main character in Boys Meets Hamster is fourteen, which is so rare in YA and even more rare in queer YA. There's been a huge influx of YA books with 17/18 year old main characters and while that's great and relatable for readers that are those ages, YA is actually meant for readers under 17, as well. Like 13, 14, 15, and 16. So when I found out that Boy Meets Hamster was a queer YA book with a fourteen year old protagonist, I was super excited. Because young queer teens need to see themselves in fiction just as much as older queer teens.
2) The whole premise
I guess that's a pretty broad statement, to say that I enjoyed the whole premise of Boys Meets Hamster, but I did. It was, in a nutshell, a romantic comedy. Starring a young gay teen. And I was living for it. I wanted it to be a movie, to be honest, because it had so many of those quirky moments that show up in holiday rom-coms and I think a movie version of Boys Meets Hamster would be a hit. There was the cute family, the best friend, the not-meant-for-you boy, the totally-meant-for-you boy, children being terrible and causing mischief, and karaoke. But even though this book did centre around the shenanigans of the holiday park there were also a lot of deeper moments, as well. This book tackled bullying, ableism, and homophobia in ways that were really great for the target younger teen audience.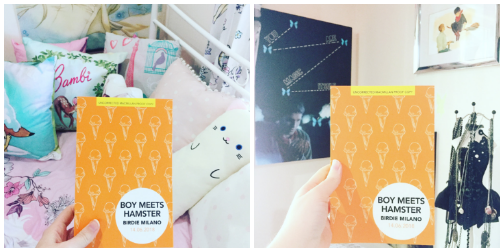 3) The love interest
The actual love interest – not the little shit Dylan had a crush on for most of the book – was so darn adorable. He was sweet, and kind, and Black!! But I also wish there had been more page time with him because I feel like the shitty love interest had a bigger role than he deserved, and that the book would have benefitted with more character development on his end and his relationship with Dylan. Because they were super cute together and I would have liked to see more of them being so cute instead of just at the end.
4) Character growth
Dylan is not your perfect protagonist but that makes a lot of sense because he's still so young! He makes a few bad decisions, and focuses on himself way too much, but there were moments when he learned that his behaviour wasn't always the greatest. And that you've got to listen to the people who care about you, and speak up for the people you care about. You've got to make time for your friends and ask how they're doing when you're telling them how you're doing. There was no miraculous character change – Dylan was still the ecstatic kid he was when the book started but he did learn some things along the way, which was great.
~
All in all, Boys Meets Hamster is the perfect queer rom-com for younger teen readers, but I recommend it to anyone wanting something silly and laugh-out-loud funny to read on these long summer days.
© 2018, Chiara @ Books for a Delicate Eternity. All rights reserved.
trigger warning

ableism, use of ableist language, homophobia, bullying, reference to animal cruelty, building fire

Posted on: December 18, 2018 • By: Chiara