Books for Thought is where I post a discussion topic related to books, reading, writing, or something pertaining to one of the three. I hope you'll join in, and discuss today's topic of
to-read #ownvoices lgbtqia+ novels
So last week I posted about some of my favourite #ownvoices LGBTQIA+ books so this week I thought I'd write about some of the ones I haven't read, but am really keen to! So here's that list for you:
The Love Interest by Cale Dietrich
I have been excited to read this book ever since I learned about it! I love the sound of how it turns typical YA tropes on their heads. Also, the fact that the two guys in the love triangle fall for each other. Its what I've always wanted to see!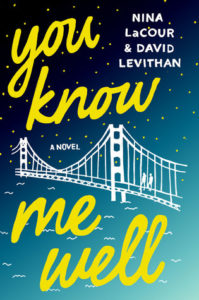 You Know Me Well by Nina LaCour and David Levithan
I've read two books by Nina LaCour and loved them, and David Levithan is one of my all time favourite authors. Honestly, I'm not even sure why I haven't read this book yet! Especially since I pre-ordered it and everything. But I love that both the POV characters in this book are #ownvoices. That's just awesome.
Proxy by Alex London
I have a lot of passion for LGBTQIA+ books that aren't contemporary. Because I devour pretty much any and all LGBTQIA+ books I can find, and most of those end up being contemporary. And contemporary isn't actually my favourite genre! So when I find a book with an LGBTQIA+ main character and it's not contemporary I feel EXCITED and it gets added to the TBR immediately.
In terms of Proxy I have honestly only heard amazing things! So why has it been sitting on my shelf for nearly two years? I do not know.
The Unintentional Time Traveller by Everett Maroon
I mainly want to read this book because Vee from Gay YA always talks about it when they give out trans book recs. Also, it's about a trans time traveller? TIME TRAVEL IS EVERYTHING TO ME.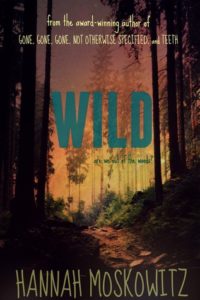 Wild by Hannah Moskowitz
I adore everything Hannah Moskowitz writes, and I pre-ordered the heck out of Wild because I'd followed along as she wrote it and shared things about it on Twitter. I don't think I've ever read a book with a deaf character before so I'm really excited about that. Also, both the people in the relationship are bisexual, which I love.
If I Was Your Girl by Meredith Russo
Don't kill me for not having read this book! Especially since my friend pre-ordered it for my birthday last year. I am just terrible at reading books I own because I always prioritise review books or library books *sighs* BUT I really want to read If I Was Your Girl this year! I know that I will fall in love with it, and that it'll totally be worth the wait.
Lizard Radio by Pat Schmatz
This book is, from my knowledge, the only one out there with a non-binary protagonist that is also #ownvoices. Correct me if I am wrong, though! Either way, this book is one of a kind and I need to read it. The premise sounds unique and interesting, and I really want to read about a POV non-binary character! I've heard pretty awesome things about this book, too.

What about you? What are some #ownvoices LGBTQIA+ books on your TBR? Are you going to add any of these?

Posted on: June 13, 2017 • By: Chiara