Books for Thought is where I post a discussion topic related to books, reading, writing, or something pertaining to one of the three. I hope you'll join in, and discuss today's topic of
series that might or might not be continued
Even though I have problems with series I still come across books that could be the first in a series, but that decision is either left up to sales or some other force of publishing. Sometimes I read a series and then suddenly there's silence. I actually have a Goodreads shelve dedicated to series that may or may not continue or may or may not be finished (which is obviously the more heinous of the two). So, today you can share in my pain of series that are up in the air because I am kind like that.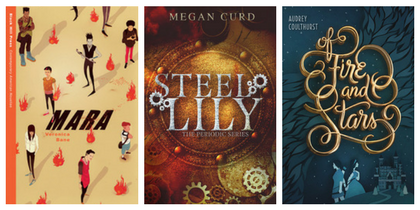 The Unusuals by Veronica Bane (review of book one and two): Mara and Miyuki were so awesome! I really, really want a book three in The Unusuals because they are really good, diverse, and pack so much into a small story.
The Periodic Sequence by Megan Curd (review of book one and two): I adored both the first and second book in this series. I remember the author talking about book three – the title, the cover. But I don't really know why it never happened. The author isn't active on social media so no clues there, either. I'm still hoping that Copper Phoenix happens one day *crosses fingers*
Of Fire and Stars by Audrey Coulthurst (review): I remember seeing the author tweet that she'd be open to writing a sequel to Of Fire and Stars, but that sales would determine whether or not it happens. BUY THE BOOK SO WE GET A SEQUEL, PEOPLE.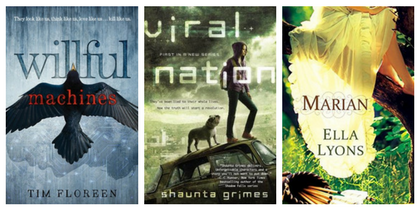 Willful Machines by Nina Tim Floreen (review): Much like Of Fire and Stars above, the author said he is open to continuing the story he started in Willful Machines but it all depends on the world of publishing – sales, what his publisher wants him to work on, etc. I adored Willful Machines and would absolutely love a sequel!
Viral Nation by Shaunta Grimes (review of book one): This series was dropped from the publisher before the last book was released, which makes me so sad. Viral Nation was one of the first books I received for review when I started blogging, and I loved it. An autistic MC in a dystopian? With a companion dog? Where do we ever see this? I wish that sales had been better so we got a conclusion to this awesome story.
Marian by Ella Lyons (review): I remember seeing the author tweet about this being a series last year, but haven't heard anything about it in recent times. I do hope that there is a book two becuase I feel like the story was just getting started in Marian!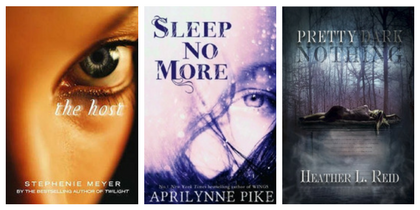 The Host by Stephenie Meyer (review of book one): We have been lured in by false information regarding this series too many times for me to hold any true hope that it's going to happen. Still. It might.
Charlotte Westing Chronicles by Aprilynne Pike (review of book one): The author wrote a sequel to the first book and released it independently, and I really hope she continues to do that with this series. Book two didn't feel like the end! But I haven't seen anything about her continuing this series as I think she's working on her newest traditionally published one.
Pretty Dark Nothing by Heather L. Reid (review of book one and two): There was a long wait between book one and two in this series, and I thought that book three might just be a labour of love like some other series finales that have been written. But I just read a blog post from the author about how the publisher dropped the series because of internal problems. She's not continuing as of now but has promised a conclusion in the future. I can only hope!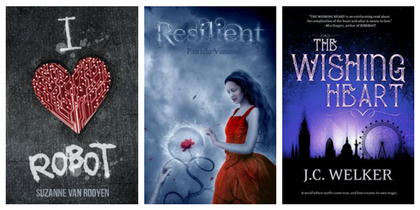 I Heart Robot by Suzanne Van Rooyen (review): I really liked I Heart Robot, and I have a memory of the author saying something about it potentially being a series. There was a supporting character that I ADORED, and I would love to see a companion novel about him.
Resilient by Patricia Vanasse (review of book one and two): I like this series so much! And I definitely need a third or final book. I just checked the author's blog and Twitter etc. but no news. This is so disheartening.
The Wishing Heart by J.C. Welker (review): Now, I only read this book this year but I know there is potential for a second book! It was in the review copy I read. IT WAS. I would definitely read a sequel to this book, it was a lot of fun, and super diverse!

What about you? Are there any series you're reading that are up in the air? Any of your favourites been cancelled?

Posted on: October 3, 2017 • By: Chiara