Books for Life is where I share bookish lists, recommendations, and favourites. You can also catch me talking about non-bookish things here, as well as my life outside of blogging. Today I'm talking about…
my favourite books of 2017 (so far)
Since we are officially in the second half of 2017 I thought it was high time I shared my favourite reads of the year so far. These are by no means listed in order of how much I loved them, but rather in order from most recently read to least recently read! So, if you want to know, keep reading…
The Gentleman's Guide to Vice and Virtue by Mackenzi Lee (review)
If you read my review you'll know how much I loved this book. But if not, a quick summary of why: it's queer, it's historical, it's fun , and the shipping is A+. I honestly wasn't sure if I would love this book because there has been such a focus on it being humorous, but I fell head over heels. There were funny moments, but this book is so much more than that.
They Both Die at the End by Adam Silvera
Adam Silvera is out to end me, I swear to god. I didn't intend to read They Both Die at the End as soon as it downloaded onto my Kindle, but when I opened it just to read the first few lines there was no stopping me. This book is beautiful and heartbreaking and if you want to be ruined then definitely read it.
Kase-San and Morning Glories by Hiromi Takashima
This is honestly just the cutest f/f manga I have ever read. Everything about it was adorable, and I made embarrassing SQUEE sounds when I finished it. If you're looking for a sweet f/f romance manga then I direct you to this.
The Fallen Kingdom by Elizabeth May (review)
I cannot even describe how much I loved this book. It was honestly the most perfect conclusion to one of my all time favourite series. I could not have asked for more. It is possibly my favourite of the whole series, which is a feat because I adore The Falconer with a fiery, burning passion.
A Conjuring of Light by V.E. Schwab
This book was AMAZING. I cannot even with this book? Like the title above, this book was the final in a trilogy, and I adored it. I loved the previous two – A Darker Shade of Magic and A Gathering of Shadows – but there was just something about this one that completely blew me away. I love this book to the ends of the earth. KELL, MY LOVEEE.
Nowhere Near You by Leah Thomas (review)
DON'T EVEN TOUCH ME. Gosh darn I loved this book. I re-read its predecessor in preparation, and I am so thankful that I did because I was reminded of how much I freaking adore Moritz and Ollie, and also how much I ship them. Even though Nowhere Near You is super different to Because You'll Never Meet Me it still had all the things I loved about the first. And that ending. That. Ending.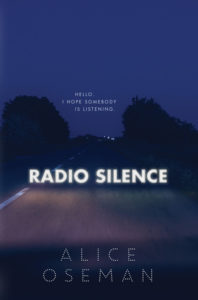 Radio Silence by Alice Oseman (review)
This book is absolutely divine. Who knows why I never read the copy I borrowed from the library last year, but maybe I was meant to read it when I did. Radio Silence is the book I have seen the most of myself in – ever – and it was incredible for that reason, and so many more.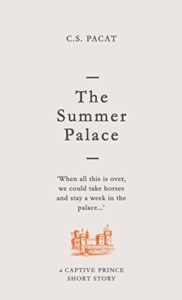 The Summer Palace by C.S. Pacat
Damen and Laurent being happy together makes my heart so full. I've read this twice already, and can see many more re-readings in the future because it's just beautiful? I cannot even.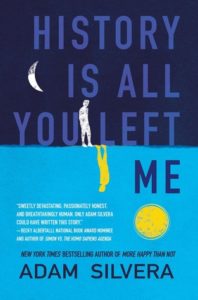 History Is All You Left Me by Adam Silver (review)
I mean, I think it speaks volumes that both of Adam Silvera's 2017 releases are on my favourites list. And they both deserve to be here, as well. History left me brokenhearted, and yet not without hope. It was the most bittersweet novel I have ever read, and I know I'll be returning to its pages before long.

And there they are. My favourites of 2017 (so far!). What are some of the best books you've read this year?


Posted on: July 4, 2017 • By: Chiara