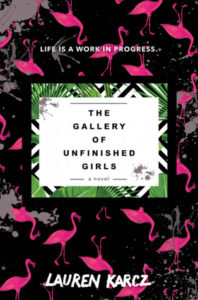 What: The Gallery of Unfinished Girls by Lauren Karcz
Who: HarperTeen
When: July 25th 2017
How: A copy of this novel was provided by HarperCollins for review via Edelweiss.
Mercedes Moreno is an artist. At least, she thinks she could be, even though she hasn't been able to paint anything worthwhile since her award-winning piece Food Poisoning #1 last year.

Her lack of inspiration might be because her abuela is lying comatose in faraway Puerto Rico after suffering a stroke. Or the fact that Mercedes is in love with her best friend, Victoria, but is too afraid to admit her true feelings.

Despite Mercedes's creative block, art starts to show up in unexpected ways. A piano appears on her front lawn one morning, and a mysterious new neighbor invites Mercedes to paint with her at the Red Mangrove Estate.

At the Estate, Mercedes can create in ways she never has before. She can share her deepest secrets and feel safe. But Mercedes can't take anything out of the Estate, including her new-found clarity. As her life continues to crumble around her, the Estate offers more solace than she could hope for. But Mercedes can't live both lives forever, and ultimately she must choose between this perfect world of art and truth and a much messier reality.
why i did not finish the gallery of unfinished girls
I wanted to like The Gallery of Unfinished Girls. The premise sounded good, the cover is gorgeous, and it's about a bisexual Puerto Rican girl. However, The Gallery of Unfinished Girls was just not for me, and here's why:
1) The writing style in this book was at times incredibly simple, and at others it was filled with so many metaphors it was difficult to decipher what was trying to be said through them. I feel like this was really jarring because one minute it would be general descriptions and the next it would be descriptions that had my scratching my head in confusion.
2) There was nothing to the main character, Mercedes. I mean, sure, there were parts of her that were fleshed out, but I didn't know what was driving her in this book. I didn't know what was supposed to be pulling me in, because at 41% nothing was really happening at all. I just wanted to engage with her, and her wants and needs, and this didn't happen at all.
3) The artistic pretentiousness was next level in The Gallery of Unfinished Girls. There was just so much angst and artist drama that it was kind of painful to get through. Mercedes tore up her award winning piece, and was painting walls red, and I just couldn't read any more about the pain of being an artist and not being inspired enough.
4) Despite the blurb saying that Mercedes is "madly in love" with her best friend, Victoria, I wasn't feeling it. I didn't even really get a feel for the fact that they were best friends. This relationship was more told than shown, with only about three scenes with Victoria occurring in the 41% of the book that I read.
5) The side characters weren't fleshed out at all. Even Mercedes' sister. Her friend Tall Jon. Lilia. They all felt kind of cardboard cut-out-y to me. Mercedes' sister was only there to lie to Mercedes' mother when she called, and to suddenly be a prodigy pianist player. Tall Jon was only there to give Mercedes cigarettes and new music. I don't even know what Lilia was there for – I guess to be a Mysterious Artist. None of these side characters felt like they played any integral role in what was happening, or had lives outside the scenes where they were with Mercedes.
6) I just didn't care what was supposed to happen next, which I guess is because all of the above. Nothing was pulling me to keep reading, and so I didn't.
© 2017, Chiara @ Books for a Delicate Eternity. All rights reserved.
trigger warning: absent parents, grandparent in coma (after two strokes), use of ableist language, and shaking building (like in an earthquake) in this novel. please note that this is not a full list of trigger warnings as i did not finish this novel

Posted on: August 4, 2017 • By: Chiara