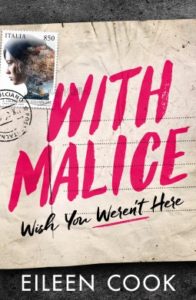 What: With Malice by Eileen Cook
Who: Hot Key Books
When: August 2016
How: A copy of this novel was provided by Allen and Unwin for review.
RRP: $16.99 (AUD)
Wish you weren't here…
When Jill wakes up in a hospital bed with her leg in a cast, the last six weeks of her life are a complete blank. All she has been told is that she was involved in a fatal accident while on a school trip in Italy and had to be jetted home to receive intensive care. Care that involves a lawyer. And a press team. Because maybe the accident…. wasn't just an accident.
With no memory of what happened or what she did, can Jill prove her innocence? And can she really be sure that she isn't the one to blame?
As anyone who reads this blog likely knows: I adore mystery/thrillers. I love the guessing and the addictiveness, and the "whodunit" of it all. It's just something that I really like consuming (now all I can do is picture myself eating books).
With Malice, though not a standout in the genre, was an enjoyable book. There were moments when I was guessing who had killed/what had happened to Jill's best friend, Simone … but most of the time I knew exactly what had gone down. This is not a great thing when you're reading a mystery/thriller because the desire to read on is to find out what happened. So that aspect was definitely missing for me, unfortunately.
A lot of mystery/thrillers – where the death/abduction/etc has already occurred – have flashbacks to the time before the bad thing has happened. It was quite surprising that there was none of this in With Malice. There were no flashbacks to what Jill and Simone's friendship was like, so it had to be taken at face value that they were best friends. I wanted to know more about their relationship. We heard small tales from Jill, but I wanted to see how close they were, what their relationship was like in good times and bad. I wanted to feel something for Jill when she found out her best friend was dead, but instead it was a little emotionless.
There are portions of With Malice told in a variety of formats – television segments, police interviews, and blog posts. I thought that these served a pretty good purpose, as they were the only pieces of information that the reader is provided in terms of what Jill and Simone were like in Italy. They also bring in a lot of questions because some people are saying one thing and some people are saying others.
Jill is in hospital and physical therapy for the entirety of With Malice. I was quite surprised by this, as it didn't really provide for many storylines outside of Jill being questioned and whatnot regarding Simone's death. A lot of the novel was Jill thinking about "getting better" and going home. I suppose there was no real urgency to this part of the storyline because she wasn't in jail, she wasn't in court, and she wasn't on the run. Jill was safely hidden away, and only had to worry about what people on the internet and TV were saying about her.
To be honest, I didn't particularly feel much for Jill at any point in time. I don't have to like a character to like or enjoy a book – there are plenty of books I have really enjoyed with unlikeable characters – but there was just something about Jill that annoyed me. She seemed extremely selfish at times, and also jumped to conclusions about things, and made stupid mistakes that I could hardly believe anyone would make. So, unfortunately, I was never invested in whether she would be charged with Simone's murder or not.
I think if you're looking for a story with a somewhat similar feel to Dangerous Girls, or if you are wanting a mystery/thriller a bit different to other books in the genre, then With Malice is most likely going to satisfy you.
© 2016, Chiara @ Books for a Delicate Eternity. All rights reserved.
trigger warning: ableism, attempted suicide, murder, physical assault, amnesia and leg injury from car crash, suicidal ideation, queerphobia, and domestic violence in this novel

Posted on: August 5, 2016 • By: Chiara