What: Running with the Pack by A.M. Burns and Caitlin Ricci
Who: Harmony Ink Press
When: September 8th 2016
How: A copy of this novel was provided by Harmony Ink Press for review via Net Galley.
Finn is about to start his senior year of high school when he and his family move from Austin, Texas, to Woodland Park, Colorado. Everything is different—even the elevation—and Finn's having a hard time getting used to his new home. Life takes a turn for the better when he meets Ivan Dubovasky at a farmers' market. Finn finds not only a close new friend but a fulfilling volunteer position at the High Mountain Wolf and Wild Dog Center, which Ivan's family runs. Before long Finn develops an affinity for the wolves under the center's protection.

Things only get better for Finn when he starts a relationship with Ivan; and Ivan's best friend, Adrian, who's asexual, completes their small pack. But it all comes crashing down when the bully plaguing Adrian crosses the line and Adrian goes missing. Finn and Ivan are determined to bring their boyfriend home safe, but they might not be able to do it alone. Luckily there's a special wolf ready to lend a paw.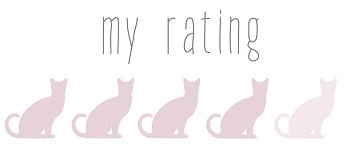 Running with the Pack was, in a word, sweet.
The story follows Finn, who has just moved to a new (and much smaller) town, and is a little afraid of not having any new friends at school. Enter Ivan, good looking and sweet wolf boy (not an actual wolf boy, rather a boy who takes care of wolves). Finn decides that he wants to volunteer at Ivan's family's wolf sanctuary after being mesmerised by the wolf he meets at the farmer's market.
I really loved the inclusion of the wolf aspect in Running with the Pack. As a kid I was absolutely obsessed with wolves, and I still have a huge amount of love for them. So I loved reading about characters who loved wolves as much as I do. And to see Finn discover more about himself and what he wants to do with his future because of this love was incredibly sweet. If anything, I would have loved more of this wolf aspect. I did believe in Finn's love for the wolves, and how they affected him, but I also wanted to see him interacting with them more, and learning more about them the more he volunteered at the sanctuary.
My favourite character in Running with the Pack was probably Adrian, who is introduced as Ivan's best friend. At first, Finn isn't sure how he feels about Adrian because wherever Ivan goes Adrian goes, and Finn has a quickly developing crush on Ivan and kind of wants him all to himself. This changes over the course of the book, and it was absolutely lovely. Finn comes to realise that he likes Ivan and Adrian, and more specifically Ivan and Adrian together. I shipped it 100%. The three boys fit together so well, and were so supportive and loving to each other. I absolutely adored how they weren't afraid to be vulnerable with each other, and show each other how much they cared.
But back to Adrian. He's the quiet, adorable artist who's also asexual. The word is used on the page, and Finn actually discusses it with Adrian a few times (in order to understand his boundaries, which I think was great). The way that Adrian describes his asexuality was very nuanced, and it wasn't just a textbook definition. I appreciated this because asexuality can be defined in a broad way, but a lot of the time it feels and looks different to everyone who uses the label.
I did have two main qualms, though. The first was how dismissive Finn's parents were when he told them that his sister's boyfriend bullied Adrian. Their response was that he was sweet to them. That means jack shit. Seriously. Bullies can pull out the charm like the best of them. Finn's parents should have sat down with him and his sister and had a conversation about it at the very least. They shouldn't have forced Finn to be nice to the guy, and to sit down and spend time with him. That is 100% not okay in any way.
The other is concerning a tiny bit of consent. Finn references Adrian as his boyfriend (thus sparking a tiny conversation with his mother about being in a polyamorous relationship), but this happens before Finn, Ivan, and Adrian have even had a conversation about being together. I guess this isn't a HUGE deal, but I just thought that Ivan and Finn did assume that Adrian was going to be a part of their relationship before they actually asked him if he wanted to.
The ending of Running with the Pack was incredibly sweet, if not kind of magical in its perfection. But to be honest, sometimes I want that. Sometimes I want parents to accept their kids right off the bat. Sometimes I want a happily ever after. Sometimes I just want everything to turn out okay, and it did in Running with the Pack, which I really appreciated.
If you're looking for an adorable polyamorous YA, then I'd definitely recommend Running with the Pack!
© 2016, Chiara @ Books for a Delicate Eternity. All rights reserved.
trigger warning: bullying, homophobia, queerphobia, and missing friend in this novel

Posted on: December 19, 2016 • By: Chiara