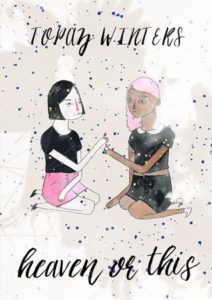 What: Heaven or This by Topaz Winters
Who: N/A
When: June 13th 2016
How: Purchased. (Get it for free here)
Heaven or This: a collection of love letters in poem form. A story of a girl who loves girls, and the beauty in that, the terror, the yearning and the warning, the endless confusion and innate peace, at once shatteringly delicate and softly visceral.

Heaven or This: a fearless, electric manifesto. A pastel incarnation of grace. The story of a girl who loves girls so deeply that it feels like loving doves or knives.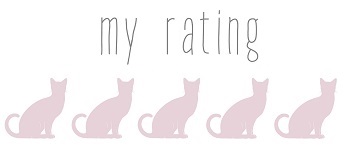 Topaz is an incredible writer, and I'm so happy to be able to review a book of hers so that you can discover her (or rediscover her) because her way with words is gorgeous. I'm going to give some thoughts on each of the beautiful pieces in Heaven or This.
girlhood
I have never seen anything so beautiful as you
pretending not to be beautiful
I love it when a line speaks to me and even though it is nestled between other lovely lines and passages and phrases, it just has that extra ness that makes my eyes go: ah, and my heart go: oh. The quote above is one of those lines. I absolutely adore it endlessly. I think there is such a beauty to people and things that do not know they are beautiful. And even though this line isn't that exactly, it still made me think of it, and gave such gorgeous imagery of a girl smiling, knowing that she is beautiful but pretending not to know and not caring that she is.
The rest of Girlhood is equally as lovely. There's a ferocity to the words that defy the constructs and expectations that society places on girls and girls growing up. Girlhood tore these down and scattered them at its feet in a celebration of ferocious love.
cherry blossoms
there is no story where two girls
get a happy ending. she tells me fine, we'll write it ourselves,
I have read Cherry Blossoms several times, and I never tire of it. I never tire of how beautifully it encapsulates how love can be tarnished by what others say, and think, and do, but that it can also bloom in spite of that. There is a sort of melancholy to this piece, hidden behind the beauty of it, that screams stop judging. It screams let us be who we are and be who we want and love who we love. That is why I love Cherry Blossoms.
legend
and when there are no gods still alive enough to smite—
i fall in love with the way
she unfurls into light.
Legend is somewhat whimsical, and somewhat painful. For me, it tells the story of girls in love who love each other despite what they have been taught to believe and trust, who love each other violently and passionately, but also softly and kindly. Legend is the kind of poem that makes you think of girls in love in hiding in plain sight.
the rememberings
Instead, here is a story of girls who survive.
This is one of my favourite pieces in Heaven or This. There is such a reality to The Rememberings – more so than the others, which are so surreal. It speaks of the unhappy endings that girls who love girls receive. In life, the movies, TV shows, books. There is so much sadness and ending when girls love girls, and The Rememberings says: forget what you have seen and read about the tragedy of girls who love girls. The Rememberings says: think of the happily ever afters and all the possible endings you haven't seen and read about the stories of girls who love girls.
april rainsong
you say i love you only when apologising
or forgiving, and i cannot tell
whether this is harmless or the truth.
Even though the words used in April Rainsong are soft like feather downing, there is an inherent sadness in the whole piece. I feel like this is about girls in love who are hurtling toward each other and crashing and hurting, but are drifting next to each other and loving and comforting. There are two distinct sides to April Rainsong, and both of them are incredibly emotional.
love in goddess-speak
I am in love with a girl who has light skin
and glass-stained eyes, and this is just
another way of pronouncing star-crossed,
Ah, Love in Goddess-Speak is easily one of my favourite pieces in Heaven or This. I feel like it tells such a personal story, of a girl confronted by family and tradition, but willing to defy it for love. The fact that it is told in four parts feels like taking a journey with the this girl who is not known and knowable all in one. Who feels incredibly enigmatic.
portrait of coven/portrait of burning
Teenage girls in love—
we're curses. Black cats. Darkness too alive
to call burning.
I love how Portrait of Coven/Portrait of Burning could so easily be a metaphoric piece, but could also so easily be an entirely magical piece. I like to see it as the latter, because I am imagining two dark and magic girls who are in love, and burning down the earth to be with one another and to discover everything the world has to give them.
prayer of the girl who falls in love with girls
(and she whispers your name and it feels like belonging)
Ah, this piece is simply divine. There is such a sleepy morning appreciation to the whole thing. This is a quiet moment of loving someone, when they aren't trying to be loved, and perhaps don't even know the love that they are invoking in someone else. This sweet and nostalgic poem is easily one of my all time favourites.
aquiver
This moment is the reason why
the sun sinks below horizon, blushing all over.
Aquiver reminds of of unrequited love, of a love that has yet to be spoken. Which is quite odd, considering that the two girls in Aquiver are in love together. But there is just the feeling of 'I love this girl in hidden meanings', and I think maybe that can be true if someone loves us back, anyway. That there are hidden depths to everything, including love, and that makes it something special to each and every person.
© 2016, Chiara @ Books for a Delicate Eternity. All rights reserved.
trigger warning: some pieces explore homophobic themes (not overt)

Posted on: June 28, 2016 • By: Chiara