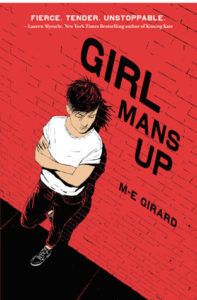 What: Girl Mans Up by M-E Girard
Who: Katherine Tegen Books
When: September 6th 2016
How: A copy of this novel was provided by HarperCollins for review via Edelweiss.
Like Julie Anne Peters' Keeping You a Secret, Girl Mans Up is a totally engrossing portrayal of a gay teen's coming of age. Pen is only comfortable dressing like a boy, but it's confusing to her friends and unacceptable to her family. And then one day she meets Blake, and little by little, it all begins to make sense.

Pen Oliviera is sort of chunky, an amazing gamer and a girl. Mistaken for a boy in restaurants, bathrooms and everywhere else—all she wants is to be the kind of girl she is.

Pen is used to catching hell for looking and acting like a boy—especially from her parents—but in the Canadian suburbs where she lives, there's nowhere to escape to. No Greenwich Village. No Castro. No LGBT club at school. No one to talk to, either. Her pal Colby, from two doors down, gave Pen respect from the first time he met her playing hockey when they were small, but Colby has become conflicted about Pen's value to him, and he's really nasty. Lucky for Pen—she's met Blake—also a gamer, and a girl who Pen says "wins everything." Can Pen manage to respect Colby's "loyalty code" even though his jealousy of her has become cruel and toxic? Pen has to man up and figure it out.
I'm not really entirely sure how I feel about Girl Mans Up.
On the one hand, I loved the nuanced look at gender that Girl Mans Up provides. It breaks down the walls of the gender binary, and Pen is just Pen, who still identifies as a girl but dresses and wants to be treated like a boy. At times, however, I wanted more from this. I feel like there could have been a much greater exploration of gender identity and expression, and how the two of them are not synonymous. There were a few passages and phrases that I think could have been worded better, but maybe they were like that because Pen didn't really have the words to describe her own sense of identity.
The main thing I didn't love about Girl Mans Up was Pen's relationship with her best friend, Colby. He's manipulative, and emotionally abusive, and I just plain do not understand why she was friends with him for so long. Sure, I guess there's always a little something tethering you to the people you've grown up with but he was horrible, and Pen just sat there and took it. I hated that. She was such a strong willed character, and I felt like this relationship with Colby just dragged her down and I don't understand why she couldn't see that.
I liked that, once Blake and Pen were together, Pen spoke to Blake several times about the fact that she isn't a guy, and that she didn't want Blake to be fooling herself that she was. Blake was 100% okay with it, and it was great to have a bisexual love interest (even though the word wasn't used) because that is a rare occurrence, and yet so important.
Another thing I appreciated in Girl Mans Up was Pen's relationship with her brother, Johnny. She was closer to him than anyone else, and I absolutely adored their relationship. The way Johnny was willing to do anything for Pen, and the way he supported her and protected her. Sure, he didn't always do these things perfectly, but seeing such a great sibling relationship in a book was super enjoyable.
If I'm being entirely honest, there was no real overarching plot to Girl Mans Up, rather interconnecting little plots, which was okay most of the time but sometimes I just wanted a bit more. Even though I know that this book was more of a snap shot into Pen's life, I just felt like there could have been more to the story than just her changing relationships with friends, family, and romantic interests.
Overall, I liked Girl Mans Up. I think it's an important book in terms of demonstrating that gender is not binary, and that expression and identity are separate things, but I also wanted a little more of exploration of that in Pen's story.
© 2016, Chiara @ Books for a Delicate Eternity. All rights reserved.
trigger warning: physical assault, bullying, sexism, emotional abuse, transphobia, homophobia, and abortion in this novel

Posted on: September 23, 2016 • By: Chiara