What: A Tangle of Gold (The Colours of Madeleine #3) by Jaclyn Moriarty
Who: Pan Macmillan Australia
When: February 23rd 2016
How: A copy of this novel was provided by Pan Macmillan Australia for review.
The Kingdom of Cello is in crisis. Princess Ko's deception has been revealed and the Elite have taken control, placing the Princess, Samuel and Sergio under arrest and ordering their execution. Elliot is being held captive by the Hostiles and Colour storms are raging through the land. The Cello Wind has been silent for months.

Plans are in place to bring the remaining Royals home from the World but then all communication between Cello and the World will cease. That means Madeleine will lose Elliot, forever.

Madeleine and Elliot must solve the mystery of Cello before it is too late.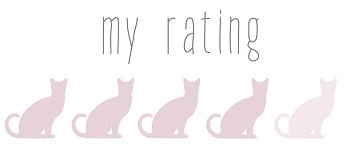 Before I start this review, I just have to say that I am incredibly sad that The Colours of Madeleine series is over. I devoured it so quickly, and I really wish that there were more books to come. I could read about these characters forever.
If that didn't convince you to read A Tangle of Gold (and its predecessors, if you haven't already), then I have a nifty list of reasons to convince you:
1) Elliot. Freaking. Baranski.
I rarely adore a character as much as I adore Elliot. He is a character that I would never tire of reading about, or learning new things about, and I wish I could watch him grow up into the absolutely gorgeous and amazing man that I know he will be.
In A Tangle of Gold, Elliot's life takes a MASSIVE turn, and there will be moments when you're doubting him, or wondering how he could do X and say Y. But just have patience, because this is Elliot we are talking about, and as I've said before: he's perfect.
2) Madeleine.
Madeleine is lovely. She has grown so much over the course of this series, and I think her character growth reaches a great peak in A Tangle of Gold. She's a little bit stronger, a little bit more vocal, a little bit more sure of herself and what she wants. She's an incredible character to read about because her story doesn't hinge on anything except herself, and her decisions.
3) Elliot and Madeleine.
I shipped these two from the very beginning. And they've had their ups and their downs, but in the end, they have always trusted each other and stuck together. The relationship between these two is put under a lot of stress in A Tangle of Gold, practically from the moment it starts, and I spent the entire time wishing that everything would turn out okay. The way these two support each other is absolutely gorgeous. A+ ship, right here.
4) The writing.
Both the writing in A Corner of White and The Cracks in the Kingdom was absolutely whimsical and beautiful, and I am happy to say that this was still the case in A Tangle of Gold. I have never read a book so beautifully crafted with words before. Everything is so vivid and truly transports you into the world of whichever character you are reading about. Jaclyn Moriarty's way with words is goals.
5) The side characters.
Belle and Jack, my sweet little pumpkins. BLESS them. And bless the fact that Madeleine's mother comments on the fact that they love each other. Because they so do. It's ridiculous.
Keira, who was practically the main perspective in this novel. I had never warmed up to her in the previous book, but I have to say that I quite liked her by the end of A Tangle of Gold.
Sergio, who is still a frolicking and prancing cinnamon roll who needs to be protected from this world.
Ko, who is so vulnerable and strong. And who should definitely end up marrying Sergio because they're adorable when they're together.
And a whole other cast of characters who are so vivid and important.
6) The ending.
Which was perfect, and didn't leave me wishing that any one thing had been different. Everything that I wanted to happen did happen. And it was beautiful, and the moment I finished, I wanted more. But only because I love this series so much, and would be happy to read several more books about Elliot these characters and the Kingdom of Cello.
© 2016, Chiara @ Books for a Delicate Eternity. All rights reserved.
trigger warning: alcoholic & drug addicted parent, reference to teenage drug addiction, amnesia, attempted murder, death of a child, death by heart failure, and abduction in this novel
follow the blog tour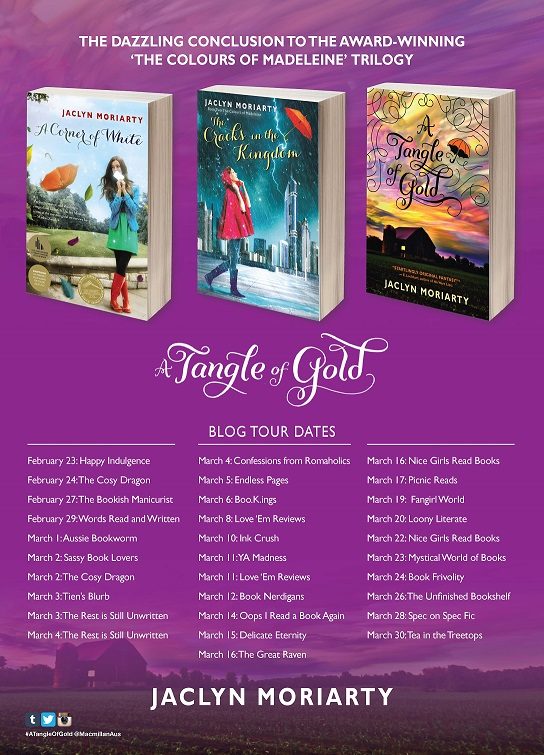 Posted on: March 15, 2016 • By: Chiara