Five Reasons To is basically my way of convincing you to love the same things I do. Because I love a lot of things for a lot of reasons. Hopefully my powers of persuasion will work their magic on you, and you can find new things to love!
Today, I am going to give you five reasons to:
Watch Sleepy Hollow

1. Ichabod Fucking Crane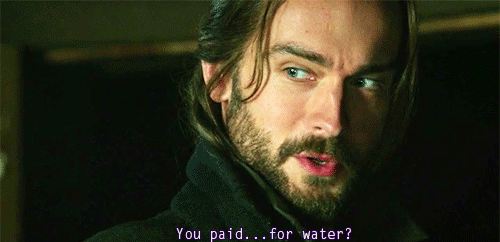 (source)
So Ichabod's been asleep for something like two hundred years, and when he wakes up in the modern day, he really has no idea what to do, or what things are, and it is just PRECIOUS. He doesn't understand phrases, or the internet, or paying for water, or the frothy stuff on top of cappuccinos and I JUST LOVE HIM. HE IS PERFECT AND PRECIOUS AND NEEDS TO BE PROTECTED UNTIL THE END OF TIME. MY BB. And just look at that face, FFS.
2. Ichabod and Abbie

(source)
They are the epitome of best friends, seriously. They're always supporting each other, and risking their lives for each other. I don't think there's anything these two wouldn't do for each other, in all honesty. FRIENDSHIP GOALS. They also love each other, but haven't figured it out yet.
3. The Humour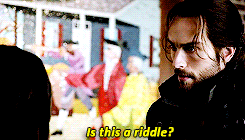 (source)
Even though this series is serious AF, there are so many little moments that are funny and adorable. Most of them revolve around Ichabod – BLESS HIS COTTON SOUL – but it's such a relief to be able to smile and laugh among all the terrible and serious life-threatening shit that happens on this show.
4. The Storylines

(source)
For some reason, there's a kind of consensus that season two of Sleepy Hollow wasn't as good as season one, but I disagree. I actually loved the fact that there was a whole storyline in most of the episodes. It wasn't like a villain of the week trope – they were all connected in really important ways. It's also super interesting to see new creatures, and see different interpretations of creatures I've seen before. And a lot of them are kind of heartbreaking, like the episode that the GIF above is from.
5. The Shipping Pain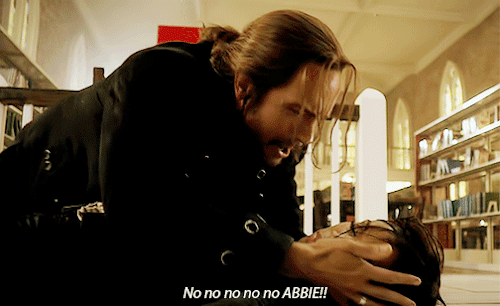 (source)
As much as I adore the fact that Ichabod and Abbie's friendship bond is so incredible and true, I desperately want them to end up together. Imagine that perfect friendship, but with KISSES. It would be the most epic relationship ever. They care about each other so much, and THE LOOKS they get when they look at each other, and THE SCENE ABOVE. I just want them to realise their true feelings for each other. And it is so painful wanting that, and seeing it NOT HAPPEN. But I hope it will one day. IT BETTER.

So these are five reasons for you to watch Sleepy Hollow! It's definitely one of my favourites, and I hope I have convinced you to give it a go :D
Ta ta for now,

Posted on: February 12, 2016 • By: Chiara