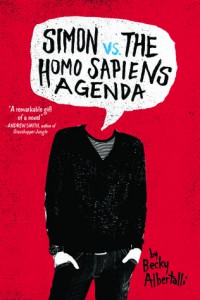 What: Simon vs. the Homo Sapiens Agenda by Becky Albertalli
Who: Balzer + Bray
When: April 7th 2015
How: A copy of this novel was provided for review via Net Galley on behalf of the publisher.
Sixteen-year-old and not-so-openly gay Simon Spier prefers to save his drama for the school musical. But when an email falls into the wrong hands, his secret is at risk of being thrust into the spotlight. Now Simon is actually being blackmailed: if he doesn't play wingman for class clown Martin, his sexual identity will become everyone's business. Worse, the privacy of Blue, the pen name of the boy he's been emailing, will be compromised.

With some messy dynamics emerging in his once tight-knit group of friends, and his email correspondence with Blue growing more flirtatious every day, Simon's junior year has suddenly gotten all kinds of complicated. Now, change-averse Simon has to find a way to step out of his comfort zone before he's pushed out—without alienating his friends, compromising himself, or fumbling a shot at happiness with the most confusing, adorable guy he's never met.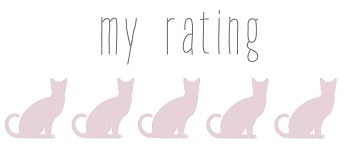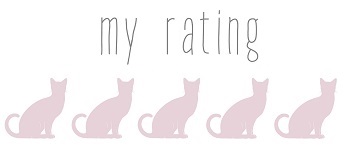 Simon vs. the Homo Sapiens Agenda is the book I have been waiting for. The book that completely normalised the experience of being a gay teenage boy who's being blackmailed by a doucheface. And by normalised I mean the fact that Simon and his being gay isn't made into an "issue" because it isn't. A book about a boy who likes boys and has the cutest online romance in the history of ever with another boy shouldn't be an issue. It should be as accepted as a book about a boy having the same romance with a girl, or vice versa. And I am absolutely loving the fact that Simon is being received well, and that people are swooning. Makes me so fucking happy. I love Becky for writing this, and I've told her that. Because these are the kind of books we need. The books that show how scary it can be to come out to your friends and family, but also shows that life doesn't need to be consumed by that fear. You can be an actor with no lines in the school play, obsess over Oreos, and ogle soccer calves (hells yes, soccer calves). These books are so important. Simon is so goddamn important, guys.
If you can't tell … I might just love Simon. Only maybe, though. I'm not entirely sure.
But in all sincerity – there are so many things I love about Simon that I could probably write several reviews for it. Although I'm going to try and write just one. We'll see how I go.
I think the second to best thing I loved about Simon (the first being what I wrote about in the first paragraph) is the absolute and utter heart-warming pile of steaming hot cuteness that is Simon + Blue. Their relationship is the kind of thing that squeezes your heart with every freaking line, and makes you want a Blue for yourself, and makes you want Simon to have Blue in his life and not just on the internet, and makes you ship it so hard you don't know what to do with yourself. They're adorable, and they talk to each other so adorably, and fuuuuuuuck they're ADORABLE, OKAY? IDEK IF I HAVE EVER READ SOMETHING SO COMPLETELY ADORABLE. Blue and Simon are my babies. My darlings. My little bbs. And they can be yours, too. If you read Simon, which I highly recommend.
There's also friendship and family in this book, and both aspects are fantastically written, and fleshed out. Simon's family is so completely weird, and I loved their interactions. Watching The Bachelor together and playing a treasure hunty thing on Facebook – man, I loved it all. And Simon's friends are actually there! And play a role, and have their own storylines. My god, it can actually happen. Friends and family members can be actual characters.
The fact that Simon is a teenage boy is explored, and thank the lord. He talks about sex, and masturbation, and I was just nodding vehemently through these parts. Because these things are a part of teenage life! Boys (and girls) think about sex, and are sexually curious, and BLESS YOU, BECKY for having the courage to actually include this in Simon, instead of glazing over it or pretending it doesn't exist.
I have to touch on Blue because you don't even meet him until the end, but his emails are so freaking full of character you feel you know him so well when you do get to meet him (ah, shit, that scene – THAT SCENE). I love the emails between Blue and Simon so much. So freaking much. Especially when Blue gets all hurt and dejected (no, I'm not relishing in his pain, promise), because he reminded me so much of me when I get all hurt but I won't just come out and say it. And relating to characters is the best thing in the world. (I also related to Simon on many levels – for example his intense love for Oreos.)
And now I'm staring out the window because writing reviews like these can be pretty darn hard. Writing about why you NEED TO PICK UP THIS NOVEL BECAUSE REASONS isn't enough, and I hope I am getting my desire for everyone to read Simon across in this review.
So, just in case, I think I'm going to finish with: you need to pick up this novel because reasons. Like the ones I've mentioned. And the fact that this book is important, and diverse, and completely cute as shit, and makes you all warm with happy fuzzies. Please. Read it.
© 2015, Chiara @ Books for a Delicate Eternity. All rights reserved.

Posted on: April 8, 2015 • By: Chiara