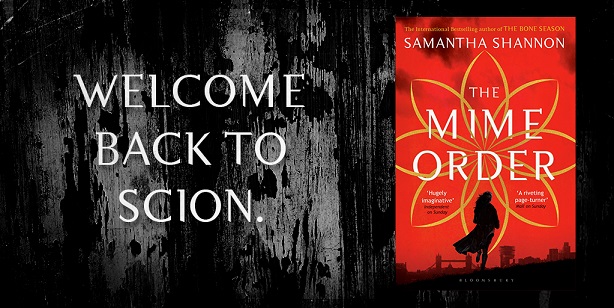 Hello lovelies! I'm today's stop on the blog tour for the paperback release of Samantha Shannon's The Mime Order! I've got a review of both the first and second book in this awesome series, as well as a never-before-seen video. I hope you enjoy! :D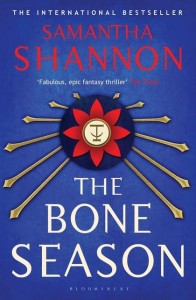 What: The Bone Season (The Bone Season #1) by Samantha Shannon
Who: Bloomsbury UK
When: April 24th 2014
How: A copy of this novel was provided by Bloomsbury Australia for review.
The year is 2059. Nineteen-year-old Paige Mahoney is working in the criminal underworld of Scion London, based at Seven Dials, employed by a man named Jaxon Hall. Her job: to scout for information by breaking into people's minds. For Paige is a dreamwalker, a clairvoyant and, in the world of Scion, she commits treason simply by breathing.

It is raining the day her life changes for ever. Attacked, drugged and kidnapped, Paige is transported to Oxford – a city kept secret for two hundred years, controlled by a powerful, otherworldly race. Paige is assigned to Warden, a Rephaite with mysterious motives. He is her master. Her trainer. Her natural enemy. But if Paige wants to regain her freedom she must allow herself to be nurtured in this prison where she is meant to die.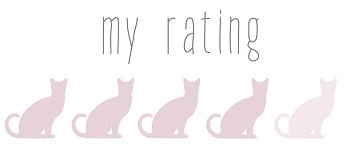 WHY did I wait so long to read this fabulous book? (Although, I am kind of glad I did because I didn't have to wait any time at all to read the sequel.)
I had heard a lot of amazing things about The Bone Season, which – as always – is a little scary. Because I want to love things. I always want to love things – especially books – but sometimes things (and books) fail me.
I need to tell you how much The Bone Season did not fail me.
The first fifty pages of The Bone Season are intense. I was thrown into an entire different reality, with terms I had never heard of before. Thank the skies there was a glossary, because I was looking at that badboy every page. But I learned the words and their meaning pretty quickly, and by the end I'm pretty sure I could have jumped into Scion (or Sheol), and held a petty fluid conversation.
This new 'language' is just the first aspect of the incredible world that Shannon has created in The Bone Season. Other aspects included the orders of clairvoyants, the clairvoyant underworld, Scion London and all of its elements, and most of all: Sheol and the Rephaim.
Not a lot of The Bone Season is actually set in SciLo (Scion London), and Paige's friends and gang are mostly introduced through flashbacks. This was excellent, because the action in this book was there from the beginning. The scene setting was woven throughout the story, so much so that Paige's history and SciLo were just as vivid as Sheol.
Paige was an extremely interesting character to read about. She is by no means the perfect heroine, and I think that's what I like best about her. She can't save everyone, because (sadly) saving everyone isn't possible. Paige is also still a teenager, and the two sides of adulthood and young-adulthood that haven't reached their equilibrium yet. She withholds a lot from herself, and therefore the reader, so Paige is a bit of a mystery.
Warden. Oh, Warden. Warden was bound to steal my heart from the moment I was introduced to him. His and Paige's relationship reminded me so much of a kind of Beauty and the Beast partnership, and that was beyond perfect (B&B is my favourite fairytale). He's brooding and cold and protective and strong and also vulnerable, and just YES to everything Warden.
There are a lot of other characters in The Bone Season, but the three that I found most memorable and important were Nashira (badass evil bitch queen who needs to return to the hell she came from), Jaxon (Paige's mentor/keeper back in SciLo. I'm not entirely sure why she felt such a responsibility towards him, because he didn't seem all that kind), and Nick (darling, beautiful Nick who deserves to live in fields of beautiful flowers and sunshine for the rest of his days). That's not to say that the other characters weren't fleshed out, or didn't play a role, because they did. I felt like I got to know so many characters in The Bone Season, and it was fabulous.
This whole book was fabulous because it introduced one of the most intricately created fantasy worlds that I have ever come across, and made me care about the characters in a way that I rarely do. I was incredible grateful that I didn't have to wait a whole year to read The Mime Order!
If you haven't read The Bone Season yet … what are you waiting for?
© 2015, Chiara @ Books for a Delicate Eternity. All rights reserved.
What: The Mime Order (The Bone Season #2) by Samantha Shannon
Who: Bloomsbury
When: September 1st 2015
How: A copy of this novel was provided by Bloomsbury Australia for review.
Paige Mahoney has escaped the brutal prison camp of Sheol I, but her problems have only just begun: many of the survivors are missing and she is the most wanted person in London…

As Scion turns its all-seeing eye on the dreamwalker, the mime-lords and mime-queens of the city's gangs are invited to a rare meeting of the Unnatural Assembly. Jaxon Hall and his Seven Seals prepare to take centre stage, but there are bitter fault lines running through the clairvoyant community and dark secrets around every corner.

Then the Rephaim begin crawling out from the shadows. But where is Warden? Paige must keep moving, from Seven Dials to Grub Street to the secret catacombs of Camden, until the fate of the underworld can be decided.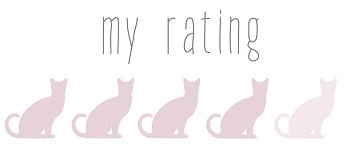 I am pleased to say that second book syndrome (where little to nothing happens in a second book, and they kind of feel subpar and superfluous) was in no way present in The Mime Order. This book was just as – if not more – action filled and intense as its predecessor.
Paige is back in Scion London (without Warden, but I'll get to that in a second), and has to choose whether or not to go back to her gang leader, Jaxon. To be honest, she hasn't got much of a choice – being a wanted fugitive with no money and all. So she goes back to him. And boy do things get intense.
The Mime Order introduces the clairvoyant underworld of SciLo in a fashion that we didn't really get to see much of in The Bone Season. I had a vague idea of what it was like, but The Mime Order completely brought it to life. The cohorts and their associated mime-lords/mime-queens, and their associated mollishers (like protégées), and their associated lackeys. All of this is described in vivid detail (just like everything is in this wonderful series). I was sucked into this intricate establishment from the get go.
I got to know Paige's gang a lot more in this book. There's Eliza, who's a muse and paints through the spirits of old famous artists; Danica, who is super smart and makes awesome gadgets; Nadine, who plays the violin and harbours a not-so-secret grudge against Paige for being Jaxon's favourite; Zeke, who is just plain adorable; my sunshine and love Nick, who is an oracle and Paige's best friend forever; and Jaxon Hall, the kind of character that I both loathe for his callousness and cruelty, and love for his flair. This gang is like family – a seriously twisted family. (I'm pretty sure I didn't forget anyone!)
Warden didn't come back on to the scene until about halfway through the book, which means the book obviously picked up from there (for me). He's out of Sheol, and out of his element, and it was absolutely wonderful to see him being the one relying on Paige, and trying to navigate everything that was happening. I wish he'd been more prominent, but I'll always want more of Warden.
There are a whole slew of new characters introduced in The Mime Order, and there is so much secrecy regarding their motives and who they're playing for in the great game of Rephaim VS SciLo VS clairvoyants. I know who I want to come out on top, but I guess there's another five glorious books before I found out who does.
The Mime Order goes out with a bang to say the least, and as soon as I read the last word, I wanted book number three. The Mime Order was an incredibly entertaining sequel that stood up to the splendour of The Bone Season. This series is fast becoming one of my all time favourites.
© 2015, Chiara @ Books for a Delicate Eternity. All rights reserved.
never-before-seen mime order video!
follow the blog tour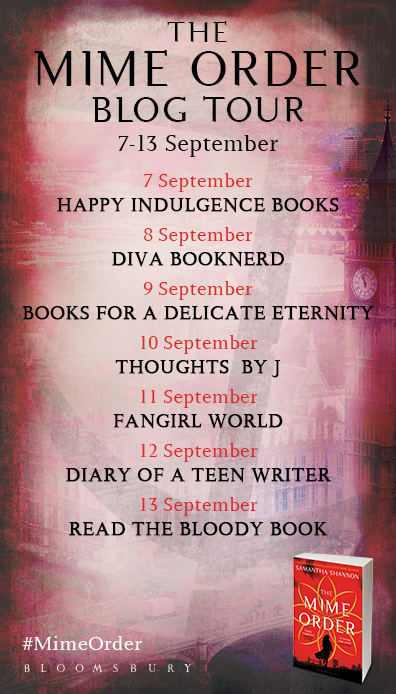 HUGE thanks to Bloomsbury for letting me a part of this fabulous tour! Please note that The Mime Order is available for purchase for $19.99 right here.

Posted on: September 9, 2015 • By: Chiara