Books for Thought is where I post a discussion topic related to books, reading, writing, or something pertaining to one of the three. I hope you'll join in, and discuss today's topic of
reading challenges of 2016
I'm doing three challenges this year! Which is new, because last year I only participated in two. Maybe it's going to increase by one every year and one day I'll be doing literally every challenge on the face of the earth. There actually was a fourth challenge I wanted to do, but I don't actually like challenging myself. These ones are easy peasy, which suits me well *insert sunglasses emoji here*
1. goodreads challenge
I always do the Goodreads challenge because, really, it's just a nice way of taking note of my reading progress. Since I smashed this year's challenge of reading 125 books, I'm making this year 150 books.
2. lgbtqia challenge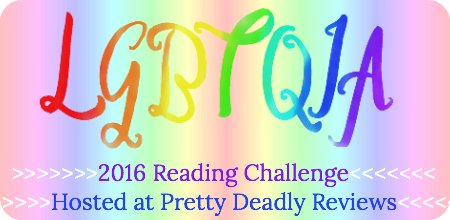 The girls over at Pretty Deadly Reviews are hosting an LGBTQIA+ reading challenge this year, so of course I'm participating. There are a few different levels, and I'm going to be totally badass and aim for the colour purple, which is 41-50 LGBTQIA+ books. I can do this!
3. indie lgbtqia+ challenge
At the moment, this is just a personal challenge where I want to read at least one indie LGBTQIA+ book each month. That means: an LGBTQIA+ book that isn't published by one of the large houses (e.g. Penguin, Random House, Harper Collins etc.), but rather small presses, independent publishers, or self publishers. I want to support queer books in all areas of the bookish world, not just those that have the opportunity to appear in mainstream bookstores. I'd be willing to make this an actual challenge with link-ups and giveaways and whatnot if there's any interest, so if you would actually like to participate in this, let me know, and I can whip it up into an actual challenge!

Are you participating in any reading challenges for 2016? Which ones?


Posted on: December 20, 2015 • By: Chiara