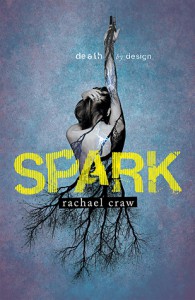 What: Spark by Rachael Craw
Who: Walker Books Australia
When: July 1st 2014
How: A copy of this novel was provided by Walker Books Australia in exchange for an honest review.
Evie doesn't have a choice.

One day she's an ordinary seventeen year old, grieving for her mother. The next, she's a Shield, the result of a decades-old experiment gone wrong, bound by DNA to defend her best friend from an unknown killer.

The threat could come at home, at school, anywhere. All Evie knows is that it will be a fight to the death.

And then there's Jamie. irresistible. Off-limits.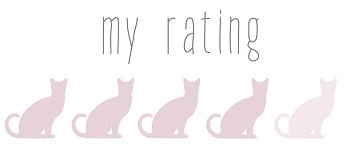 Spark was captivating. From the moment it began, I never wanted to stop reading. I wanted to forgo sleep in order to continue reading, and I'm not ashamed to admit that sometimes I did (forgo sleep, that is).
The premise of Spark is one that I have never had the pleasure of reading about before – which can sometimes be tricky, because there are so many books out there, they are bound to have some similarities and likeness, aren't they? But Spark was original, and unique, and like I said before: captivating.
Captivating because there is mystery. Who is Kitty's Stray? What exactly is a Stray, or a Spark, or a Shield? Will Jamie and Evie finally get together? Mystery is important to make your reader want to stay to the end – and Craw has mastered mystery pretty well.
There were a few little problems with Spark that I will just touch on briefly. The first one was the info-dump. Now I know that we need information, but I like my information fed to me slowly, gently, so that my mind can wrap itself around terms and familiarise itself with them. But when there are about fifteen or so new terms and acronyms dumped on my head – it was a little too much. I read those passages slowly, so I could really absorb the information, but it was still a heavy load of info dumping.
Jamie and Evie's relationship. I shipped them, pretty hard might I add. But there a few things that had me side-eying them. Like the fainting. I get it – I do. It's all about the DNA etc etc, but Evie faints every time Jamie kisses her. I mean, there's swooning but that is taking the meaning of the word to a whole new level.
And the instalove. The first part of their relationship was good, there was development and background and lead up and then suddenly it's one of those YA 'be damned world our love will last the lifetimes', and I felt like it happened a little too quickly.
But other than that, I enjoyed almost every single aspect of this novel. I liked the suspense, and the guessing, and narrative (first person present tense – YES). The ending makes me want to pray to the book gods for the sequel, because I really want to know what happens next.
Overall, Spark was a very enjoyable novel.
© 2014, Chiara @ Books for a Delicate Eternity. All rights reserved.
Interview with Rachael Craw!
1. Congratulations on the release of your debut novel Spark! For those who don't know, could you tell us a little bit more about the novel?
Spark is a story about a seventeen year old girl (Evie) who learns that she has been genetically engineered to save a life and fall in love but the odds of surviving either are against her. She struggles to master her new psychic and physical capabilities while coping with grief, learning to live with her aunt and struggling to fit in at her snooty new school.
2. How did you come up with the idea of genetically engineered humans bound by their DNA?
I had the dream that is the prologue of the novel. In the dream I was running through a forest at night with incredible speed and reflexes. I felt strong and fearless. Then I was gripped with a terrible urgency and I knew (in the inexplicable way that you do in dreams) that there was a person out in the forest in great danger. I knew I had to reach her before someone else did. I knew someone wanted to kill her and I was the only one who would be able to save her. When I woke up from the dream I naturally began to ask questions: Where did I get my strength, speed, and reflexes from? How did I know this person was in danger? Why was it my responsibility to protect her? Why would someone want to kill her? Why wasn't I afraid for myself? It didn't feel like magic. It felt like having superpowers. It made me think of comic book superheroes, radioactive spiders, chemical x or some kind of weird science. My brain jumped at the idea of genetic engineering.
3. Are there any plans to continue Spark as a series? If so, how many books do you think there will be?
Spark is the first in a trilogy. Bk 2 'Stray' will be released in 2015 and bk3 'Shield' in 2016.
4. Do you see a lot of yourself in Evie's character? If you do, which traits remind you most of yourself?
Gosh, that is such a good question. I deliberately gave her my hair and skin. Growing up there was never anyone in movies, or books, or on the telly who looked like me. At a stretch I had Snow White but I didn't fancy her much as a role model because she basically just did cleaning, fell into a coma and married the first guy who kissed her. I worshipped Wonder Woman but even she had a tan. Evie definitely has my sarcasm but you meet her in a state of grief and then she's tipped into fairly wild trauma so it's not like you really get to see what she's like in 'normal' life. I am an incurable optimist. Cheerful. Easy going. I laugh a lot. Loudly. If you smiled at me I would smile back but in most cases I would probably be the one who smiled at you first. If you smiled at Evie she might not even notice, she'd be too busy scanning for danger.
5. If there was one thing you could change one thing about your DNA what would you change?
Hmmm, probably something incredibly shallow like having an epic metabolism so that I could eat what I like without getting fat (or fatter) lol.
6. If you could meet one person (living or dead) who would it be, and why?
Peter Jackson, which is sort of a cheat because I have already met him … and by 'meet' I mean he signed my T-shirt on the red carpet at the Return Of The King premier in Wellington. Ha! But I would like to sit down and have a cuppa with him. He is truly one of my great creative heroes and reading his biography profoundly inspired me, his vision and tenacity.
7. You can only read one book for the rest of your life. Which book do you read, and why?
I guess it would have to be The Lord of the Rings just because I can be greedy and include the whole trilogy and its companion texts. This is probably making me sound like a hard core Tolkien fangirl. I'm more of a wanna be, but it's a book I read pretty regularly – every couple of years.
8. Share one random fact about yourself!
I have bolts in my right knee. I'm practically a cyborg.
If you want to follow the rest of the Spark tour, here are the details:
Tuesday, June 24 Diva Booknerd
Wednesday, June 25 The Tales Compendium
Thursday, June 26 Kids' Book Review & Happy Indulgence
Friday, June 27 Fictional Thoughts
Saturday, June 28 Inside My Worlds: R.L.Sharpe & Aussie Reviews
Sunday, June 29 Striking Keys & Thoughts by J
Monday, June 30 Books for a Delicate Eternity & Fiction in Fiction in Fiction
Tuesday, July 1 The Loony Teen Writer & Kkatie Reads
@RachaelCraw | RachaelCraw.com

Posted on: June 30, 2014 • By: Chiara