I was lucky enough to be able to interview the stupendous Erica Crouch not that long ago, and the time has come for her answers to be heard (read?)! I absolutely adore Erica as a person and an author, and I could not be happier to interview her. But I'll cease the fangirling and get straight to the chase!
Was Ignite the first novel idea that you had, or were there ones before it? If so, care to share?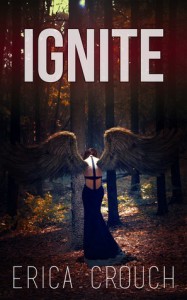 Ignite wasn't my very first novel idea. I had a few practice novels that I wrote, all through high school. Of course there was a lot of fan fiction (I think the first full-length story I ever wrote was fan fiction, actually, which is pretty funny!). I had a few original novel ideas that I wrote, but I started them with the intention of them being practice. Ignite was the first novel, though, that I wrote with the intention to publish—and that's what really made it stand apart for me.
One story I trunked, for example, was about an orphanage of witches. I loved the idea, but reading it now makes me cringe a lot. It was the first time I created a world and characters of my own, and it was a lot of trial and error writing. I was exploring voice and point of view, discovering how I liked to write and what my own style was. The plot was all over the place, but I remember it being so much fun to write! There might be a day when I revisit the stories I trunked and make them into something better/publishable. I had some good ideas, just poor execution! :)
You write in a wide range of genres (Paranormal! Fantasy! Sci-fi! Fairytales!): is there one that is your ultimate favourite?
Hmm…I don't think I hold any one genre above the others! For me, I get bored easily if I'm boxed in to one subject, topic, genre, etc. It's always been that way—I can't seem to sit still. I knew that when I decided to be a writer, I wanted to be a writer of multiple genres. It's a lot of fun to explore the different possibilities of genre. I am really excited about the sci-fi piece I'm working on, though. It's given me a chance to work a lot on world building!
If you could read one book again for the very first time, which one would it be, and why?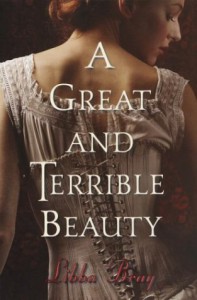 A Great and Terrible Beauty by Libba Bray. Really that entire series, actually. Libba Bray is one of my favorite authors, and the Gemma Doyle series was so spectacularly written. I remember the first time I tore through those books, I kept finding surprises and twists in the plot that blew my pants off (a step above knocking my socks off). I still love rereading it know, searching for clues and foreshadowing, but it would be great to read it again for the first time, not remembering what's going to happen next.
Who or what had the greatest influence on your decision to become a writer?
Interestingly enough, I think school had the greatest influence on my decision to be a writer. I always really loved writing and reading, but I thought being an author was one of those probably-unlikely things that children say they want to be when they grow up, like a race car driver or an astronaut. So I was studying Communications (Journalism and Public Relations) and Humanities in school, and I was enjoying the classes, but I wasn't loving them, and I had this moment where I thought, "If I'm paying thousands of dollars for a college education, I should be doing something I am absolutely enamored with." And that was writing. I switched degree programs, took a few creative writing classes and fictions writing workshops and—while it was a ton of hard work—loved every minute of it. Then I just took a chance on myself and decided to make that probably-unlikely dream happen, and published Ignite.
Patchwork Press is pretty much the cutest name in the world –how did you come up with it?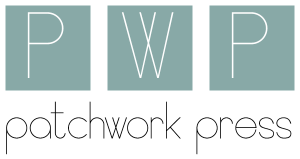 Thanks! It's actually a pretty funny story about how we came up with Patchwork Press. Kellie Sheridan and I, once we knew we were going to open a press together, sent about fifty emails back and forth discussing only the name. We had a few ideas tossed around, but nothing seemed right. We knew that the name can be a super important aspect—you remember names, if they catch your attention. Your name is your brand. It took a while for us to land on Patchwork Press. I sent her a list of suggestions, and then would mock up sample logos, and then she'd send another list, and I'd mock up more logos. One name on Kellie's list was Patchwork Press, and something about that clicked. We wanted to be a publisher that patches together people's skills and talents, to get authors to come together and help one another out in a community of publishing. We were a patchwork publisher, so it made perfect sense to us to be Patchwork Press! And then, as we continued emailing, one of us (I think me, probably) abbreviated it to PWP. I think I was just feeling too lazy or typing too quickly to write out Patchwork Press. And that's how PWP/Patchwork Press came to be!
Your cover designs are absolutely gorgeous! When did you discover your love and flare for designing book covers?
*blushes* Oh man, thank you. I do work really hard on designing covers, for myself and the other authors at PWP, so that means a lot. I started designing covers because I'm cheap. When I went to publish Ignite, I was (and still am) a broke college student, so I had very little money for editing. In fact, all of my money went into editing, and I didn't really have anything to invest in designing a cover. We all know how books are judged first and foremost by their covers, and I didn't want mine to look "self-published"in that negative, stereotypical way. I already knew how to use photoshop, and I'd had experience with design, so I took on the task myself. And I haven't stopped since. The answer of how I started designing covers is because I am a cheap control freak. Plus, it's so awesome to see the different stages of design and find great images to use.
What can readers look forward to in your upcoming works?
A lot, hopefully! I've got a few different series in the works, and even more stories on the back burner, waiting to be written after I write everything that's already been announced. The next book I'm publishing will come out incredibly soon, I'm thinking late June, and it's a young adult romance with a paranormal twist, inspired by an Edgar Allan Poe poem. There's also the Robin Hood gender-bent retelling, the new adult sci-fi, and of course, Incite. I also have plans for a young adult horror story (Bloody Mary, anyone?) and a spy/assassin novel.
Share a random fact about yourself!
My house is haunted, and the most active ghost is "basement ghost"who likes to turn on and off the lights and peek around corners to me. The weirdest part is, our house was built in 1990, we've been the only owners, and no one has died here. This has led most everyone to conclude that my house isn't haunted, but rather I'm haunted.

Erica Crouch is a young adult author from the colorful city of Baltimore, Maryland. Currently, she is studying English and Creative Writing with a specialization in Fiction at Southern New Hampshire University. She is the cofounder and head of editorial services and design at Patchwork Press.
Erica's debut novel, Ignite, was published June 2013. The e-novella sequel, Entice, was released Nov. 2013. The final book in the series, Incite, is expected spring 2014.
Along with the series Ignite, she is working on a new adult series — titled the Undying series, with the first installment, Cut, due 2014 – and a Robin Hood gender-swap retelling — titled the Feathered series, a duology (Robin, Hood) due 2015. When Erica isn't writing, she's reading an overwhelming stack of books, watching an obscene amount of Netflix, and procrastinating.
Blog – Twitter – Goodreads – Facebook – Tumblr – Wattpad – YouTube

To celebrate having Erica here on the blog, I decided I would give away one paperback copy of Ignite (if The Book Depository ships to you)! I adore this book more that I can express, and I want to share the love of Erica's writing (and it's also a huge week – my 21st birthday, the blog's 1st blogoversary – there is call for celebration).
As always there are some rules:
– Entrants must be 18 years of age or older, unless they have permission from a parent of guardian
– I will contact the winner via email and Twitter (if possible). If the winner does not reply within 48 hours, then I will allocate a new winner
– I am solely responsible for hosting the giveaway, and release all mentioned parties from any liabilities
– I am not, however, responsible for the condition you receive the prize/s or prize/s being lost in the mail
– Cheating is looked upon harshly, and if attempted: you will be disqualified
Before I sign off, I just want to say a huge THANK YOU to Erica, and good luck to all those entering the giveaway!

Until next time,

Posted on: June 4, 2014 • By: Chiara