In my travels of the internet, I come across very talented people. Writers, photographers, painters, drawers, graphic designers. And when I find these artist's beautiful work, I want to share it with as many people as possible. So that is why I decided to create Artistry: A Spotlight. To showcase some of the art that I come across. I hope you enjoy these artists as much as I do.

For my Artistry post today, I am spotlighting the lovely Hazel of Stay Bookish. Hazel recently started her own blog design shop, and I have been smitten with what I've seen so far, so I thought I might as well show you just how talented she is! So, here we go: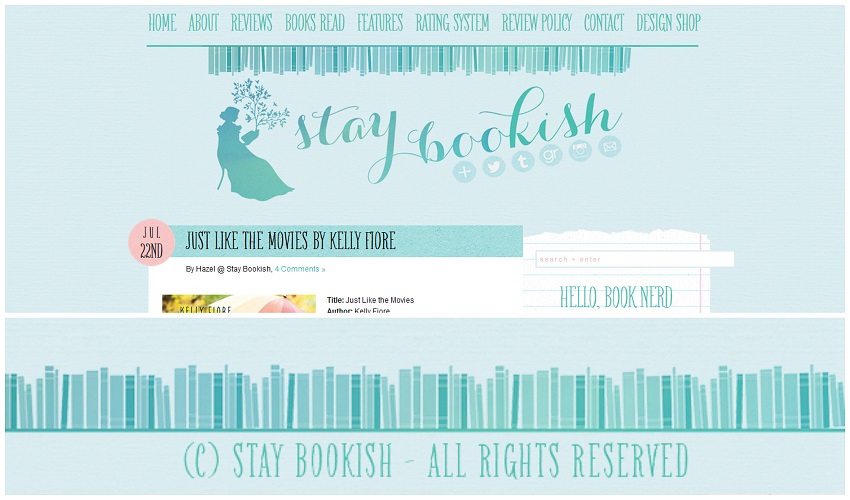 This is Hazel's own blog design, and I must say I am more than a little in love with it! Blue is my favourite colour, so straight away this design appeals to me. The font for the title is absolutely gorgeous, I am a fan of the little pink accents here and there, the books at the top and bottom of the page are fabulous, and I adore the silhouette of the girl reading on the chair. This design is definitely one of my all time favourites.
There are two things that I really adore about this design and they are the background for quotes, and Hazel's signature:


Aren't they just gorgeous? I love the little motif within the quote background and the gradual change of text colour of Hazel's signature is beautiful.
As I mentioned before, Hazel creates unique designs for blogs – here are some of her final products:
Can I just say WOW? They're all different and unique! I absolutely love the middle one and its utterly vintage feel. And birdcages. I love birdcages with a passion.
Hazel's design prices are ridiculously good and you can request anything from a full to design to a button, a signature, and even contact cards. If you want to check out all her options, please click here.
I hope you enjoyed looking at these designs, because I sure did. Please check out Hazel's social media, because she is incredibly lovely: Blog – Twitter – Tumblr – Goodreads
Until next time,

Posted on: August 7, 2014 • By: Chiara