Books for Thought is where I post a discussion topic related to books, reading, writing, or something related to one of the three. I hope you'll join in, and discuss today's topic of
Secondhand Books!
I don't know about you guys but I LOVE secondhand books. I love the smell of them, the look of them, I love everything about them, and I buy them all the time. To express my severe and dedicated love for previously loved books, I have devised the following attributes that I find attractive in a secondhand book.
1. They're Cheap.

Hey. This is a major plus point for secondhand books. I don't know about you guys, but I'm a student. Students are notorious for being poor. Granted, I spend all the money I have on books, but to me – there is nothing more worthy of my money. And it's always a plus when the book I buy is only $5, instead of $20. It makes life that much better.
2. They've Been Loved Before.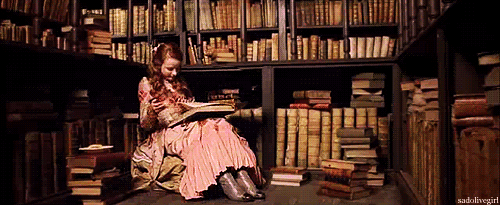 I, for one, love the fact secondhand books have been read and loved before. I love the fact that there is a story behind this book that I have no idea about. How did the previous owner get it? Did they like it? Why did they give it up, or sell it? The mystery behind secondhand books is, well, mysterious.
3. They're Worn In.

With secondhand books, the pages are soft, the spine is bent – they've been worn in for me. There's nothing more stressful for me, as a reader, than reading a book for the first time. I worry about cracking the spine (*internal screaming*), or ripping the pages (*starts hyperventilating*) , or doing anything else that may ruin the perfection that is my book. But with a secondhand book, the spine is cracked, the pages are weathered, and I have absolutely nothing to worry about. If I add another crack to the spine, that's okay, because it has 100 others, anyway. If I mark the pages with chippy dust or salt, it's not quite so horrific as if I had done it to a new book. The stress of reading secondhand books is all but nil.
4. They Smell Amazing.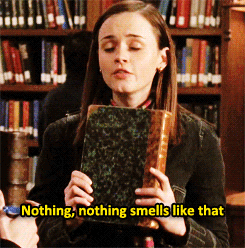 Ah, Rory. You are so right on this account. Secondhand books, especially REALLY old ones smell divine. I love smelling book of all ages, but the antique ones smell SO GOOD. I love it. If I could bottle that smell, I totally would.
5. They Can Introduce You To New & Amazing Things!

I have discovered some of my favourite books from buying them secondhand. And if I was a secondhand book hater, then I would never have found them.
For example, the Study books by Maria V Snyder. I bought the second and third books from a massive secondhand book sale. They were in perfect condition, which was a plus. But I may not have ever knuckled down and read them if I hadn't bought them at the sale. And they are one of my all time favourite series of books.
The Hundred Thousand Kingdoms by N.K. Jemisin. I found this one at the op-shop earlier this year for something like $2. It is now one of my favourite books. I had never heard of it before seeing it in the shop, and probably never would have found it any other way, as it's not extremely popular (even though it should be).
The Mortal Instruments by Cassandra Clare. I bought two signed copies on eBay for three dollars each, because I didn't have to pay for extra shipping, because I was already buying an item from the seller.
Shadow and Bone by Leigh Bardugo. Bought in a bundle with the TMI books. It was only $3 in hardback, with no extra shipping – hurrah!
And HEAPS of others. Half the books I own are secondhand, and I love them a lot.
Sometimes, if my beloved secondhand book is in really bad condition, I may purchase a new copy. This gives the author more money, and gives me a perfect copy that I will probably never read, because I would be terrified of ruining it, and will always have a soft spot for my original secondhand copy.
For me, secondhand books are a way to discover new reads, save money, and give a book a second chance at life. I have always loved secondhand books, and I know I always will. They're awesome, for the characteristics listed above, and ones that I haven't mentioned. They are just plain made of win.
Do you like buying secondhand books? If so, why? If no, why not? What are some books that you have discovered by buying secondhand? If you really love a secondhand book, will you buy it new, as well? Let me know in the comment section below!
Posted on: December 12, 2013 • By: Chiara
---